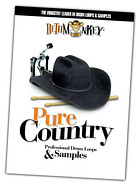 Beta Monkey Music has released Pure Country V: Nashville Shuffles, a collection of brushed drum loops.
Our fifth installment in the Pure Country Series is a complete country songwriting package, featuring over 350 acoustic brush and stick drum loops and a complete multi-velocity sample set taken from the drums used to record the drum tracks. If you need the real thing, all the nuances and textures of brushed drum parts, laid down with impeccable taste and time, then Pure Country V: Country Drum Tracks™ will deliver, true Nashville inspiration for less than a night out at your favorite honky tonk.
Pure Country V: Nashville Shuffles features
Drum Sounds: All drum loops are taken from the SAME recording session (all grooves, fills, one shots, etc. are sonically-matched). These are from the same sessions as Pure Country III and Pure Country IV.
Fully-Sampled Drum and Cymbal Samples: Get more flexibility with a complete matching set of drum and cymbal samples. A fully-sampled Yamaha Recording drumkit, several snares (Ludwig and Ayotte), and a number of Zildjian cymbals give you further control over your drum tracks.
Authentic Grooves: We went straight to the heart of Country music in one of Nashville's premier drum rooms. Add a seasoned pro behind the kit, with both the playing skills and knowledge of the genre and you have the absolute authority on brushed country drum loops.
Versatile Grooves: Over 350 brush drum loops, covering common country swing feels, including brushed ballads, mid-tempo swings, up-tempo double-time shuffles, and more. If your music needs brushes and it needs to swing, Pure Country V has it covered.
Complete Song Elements: Count-ins, main grooves, groove variations, fills, intros and endings – all the parts you need for songwriting are included. A complete songwriter package. Have many sample discs will have the drummer count you in?! We have given you all the pieces you need to write your next hit.
Disc Stats: 357 (460 MB for 24 bit; 307 MBfor 16 bit)) original, license-free country brush drum loops. 96 (52 MB for 24 bit; 35.1 MB for 16 Bit) multi-velocity drumkit, snare, and cymbal samples.
Pure Country V: Nashville Shuffles is available for download now for $29.99 USD.
Visit Beta Monkey Music for more information and audio demos.