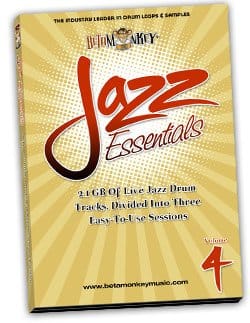 Beta Monkey has announced the release of Jazz Essentials IV, a sample pack featuring a collection of live jazz drum tracks.
Beta Monkey's Jazz Essentials IV is a diverse downloadable set of live jazz drum tracks with over 3 GB of jazz drumming performances of essential jazz standards.
Jazz Essentials IV offers multiple recording takes for the following jazz standard styles:

70 BPM Jazz Ballad
105 BPM 12-Bar 6-8
168 BPM Five Take 5-4 Jazz
175 BPM 24-Bar Jazz Waltz
200 BPM 32-Bar Swing
200 BPM Samba
240 BPM 12-Bar Fast Swing

With a seasoned New York jazz drummer behind a well-traveled set of maple Gretsch drums, this downloadable collection of drum tracks offers fifteen drum performances of many popular jazz standards song forms. Using both sticks and brushes, there's a take to inspire any jazz artist or songwriter no matter what the music calls for.

Jazz Essentials IV offers seven (7) discrete mono drum tracks for complete control over the drum mix. Simply import into your DAW and mix to taste. All drums were recorded in a single tracking session for the ultimate in mixing and matching versatility and offered as 24-bit WAV format audio compatible with all major DAW software.

Whether you're creating jazz backing tracks, composing new jazz tracks, or looking for new sources of inspiration for improv sessions, Jazz Essentials IV will deliver the musically expressive drum tracks you've always wanted in your music.
Jazz Essentials IV is available for purchase for $49.99 USD.
More information: Beta Monkey / Jazz Essentials IV