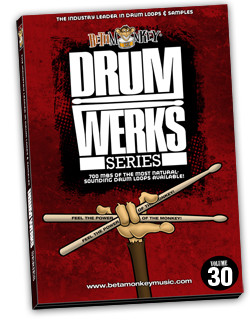 Beta Monkey Music has announced Drum Werks XXX: Freeway of Punk, a collection of 469 drum loops.
When you're songwriting needs pure attitude and adrenaline, it's time to add some authentic punk drumming to your songwriting toolbox with a powershot of drum loops for punk and punk rock. Introducing Beta Monkey Music's latest drum sample library: Drum Werks XXX: Freeway of Punk.

Plenty of power rolls and explosive fills to transition between song sections and propel the music forward. Whether you need lightning fast beats at 200 bpm or the more sustained power and clarity of power pop at 120 bpm, Drum Werks XXX features straight-ahead punk beats and grooves with a modern drum mix and sound. Looking for the raw aggression of out-and-out punk but need the straight-ahead rhythms that can carry a power pop song as well? You'll find what you need on Drum Werks XXX: Freeway of Punk.

A combination of power and musicality, these punk drum loops will drive your music hard when needed but prove highly musical at the same time, giving users flexibility to use the loops in a number of punk, punk rock styles. Add a shot of pure adrenaline with this masterful display of energy and chops.

With some of the fastest drum beats we've released, Drum Werks XXX is as much about precision as it is about frenzy. A seamless combination of punk attitude and velocity with seasoned chops and technicality, Drum Werks XXX Punk Freeway delivers a all the raw and loose feel of punk's roots you'd expect with an updated sound and impeccable timing.

The Beta Monkey standard complete matching single hit sample set with 256 MB of drum and cymbal samples is also included for further customization and sequencing. The drum and cymbal samples provides a complete additional resource for artists who prefer to build punk and punk rock tracks from scratch in the virtual instrument of their choice.

If you're looking to take a ride down the Freeway of Punk, then hop on in with Beta Monkey's Drum Werks XXX.
Drum Werks XXX: Freeway of Punk is available for purchase for $29.99 USD.
More information: Beta Monkey Music / Drum Werks XXX