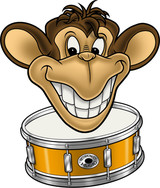 Beta Monkey has announced a Video Contest, offering a chance to win up to 10 Beta Monkey libraries.
We love seeing and hearing your music on the web, particularly the ones that have been cropping up on YouTube. So, we thought we'd make it interesting for everyone with this promotional contest!

The Contest? Create a YouTube video that uses our loops and explains how you use our grooves to help you do what you love: create music. You can record yourself recording the song, playing your best solo over our drum tracks, or even create a more ambitious MTV-Style video of your song. For those of you that teach, you could present a video lesson explaining some aspect of your instrument or songwriting. Or, if your music has been used in a commercial, then that could work as well! It's truly wide open and only limited by your imagination and creativity.
Beta Monkey Video Contest prizes
1 Grand Prize: Ten (10) Beta Monkey discs of your choice.
3 Runner-Up Prizes: Three (3) Beta Monkey discs of your choice.
The deadline for submitting a video is September 6, 2010 (there is no limit to the number of videos posted/entered).
More information: Beta Monkey Music / Video Contest