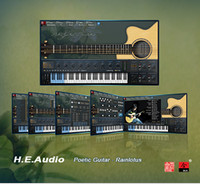 Better Music Distribution has announced the availability of the virtual Poetic Guitar Series in the USA made by H.E. Audio.
The Poetic Guitar Series is made up of three separate acoustic guitars:
Poetic Guitar Rainlotus

consists of a Ryan Guitar-Nightingale Grand Soloist acoustic steel guitar (MSRP $99.00)

Poetic Guitar Landscape

, a Rodriguez Spanish guitar (MSRP $99.00)

Poetic Guitar 8 Strings

is a Fleta 8-string classical guitar (MSRP $99.00)
Key features in all three versions:
Unique innovative design realization of real and natural guitar playing effect..
Between 800MB-1.5GB of samples per instrument without additional processing.
Guitars used are all top hand-made guitars in the world, recorded by famous guitarists at home and abroad in the CCTV 480 m2 Studio and A String Studio, which are among the best studios in China.
Hand-painted guitar interface, displaying the real-time visual effect of synchronization of guitar and keyboard in a real guitar GUI.
Rhombic sampling design, velocity levels are up to 12.
Various guitar playing techniques: Harmonic, Hammer On, Pull Off, Slide Up, Slide Down, Slide In, Slide Out, Chord, Mute, Bending, Strum etc. The legato notes at random time-length and random pitch can be achieved.
Legato techniques, more convenient for live performance.
New sampling circulation techniques: KeyCount and OctCount.
Vibrato system, Special-made for acoustic guitar.
With the new Start Time technique, a special key feature of a string instrument has been authentically realized.
Seven guitar FXs: Reverb, Delay, Chorus, Transposition, Compression, EQ and Overdrive.
Up to three groups of samples: Pick, Finger and Nail.
VSTi virtual instruments for Windows only.
All three versions are now available via direct download as single virtual instruments for $99 USD each or as a set of three for $208 USD.