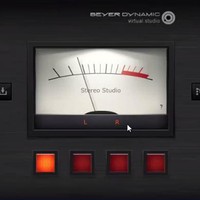 Beyerdynamic has announced Virtual Studio, a free speaker system emulation effect plug-in developed in collaboration with ITA Aachen (Institute of Technical Acoustics), Bauer Studios Ludwigsburg and the HOFA studios.
The plug-in virtually simulates real speaker systems (such as stereo or 5.1) in various environments (recording studio, concert halls, etc.) on your headphones.

This lets you listen to audio tracks or signals on your headphones as if they were playing over the correspondent speaker system in whichever space you choose.

No more long waiting periods and stress with appointments just to use a studio space which is only available for a limited time anyway – with beyerdynamic Virtual Studio you can mix and master your tracks whenever you want and wherever you are. Whether riding on the train, sitting at home on the sofa or hanging out at a friend's place – you can take the studio wherever you go.
Virtual Studio is a free effect plug-in for Windows and Mac (32/64 bit).
More information: Beyerdynamic