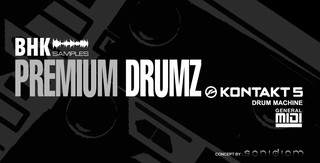 BHK Samples has launched Premium Drumz for Kontakt, an instrument library designed in co-operation with SONIDIOM to enable you to access and work with the Premium Drumz in a fully functional drum machine.
This instrument features two views – the mixer view which allows you to browse through the drums, to adjust the volume, to tune and for panning as well as sending them to dedicated outputs – and the edit view in which you can apply sample start, envelope and a three band EQ to each drum sound.

For the ease of use we loosely based our mapping on the General Midi drum mapping, so that you can mix & match your drum kits and your drum rhythms very easily and also in order to give you the possibility to use third-party GM Midi-files.

Every control of the instrument, every knob, button or selection menu, is automatable. That means you can either use host or midi automation to control it. So, if you happen to have a midi-controller with enough knobs and buttons you'd be able to control the entire instrument via your controller.

Another great feature is the randomizer function to easily generate anytime new drum kits or just parts of a drum kit, every other parameter will remain as you've set it up.
Premium Drumz for Kontakt features
Includes 293 kicks, 302 snares, 136 hihats, 32 ghostsnares, 33 shuffles, 33 cymbals, 33 claps, 80 percussions, 24 toms.
Fast & easy workflow.
Browse through all the samples via the interface.
Comprehensive mixer page.
Detailed edit page for single sounds.
Extensive midi capabilities – remote control the entire instrument.
Create new kits on the fly via the inspiring drum randomizer.
GM-like drum mapping – ideal for reusing standard midi-files.
Kontakt 5/WAV format (24-bit/44.1Khz).
The library is available to purchase for £39.95 GBP. An upgrade for Premium Drumz sample pack users is available.
More information: BHK Samples