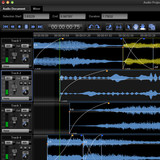 BIAS has announced Peak Studio, a new edition of the audio editing, mastering, and delivery software for Mac OS X.
Peak Studio will include Peak Pro 7 along with a complementary suite of powerful tools for multi-channel mixing, mastering, restoration, streamlined analog archiving, and more.

"Peak Studio represents a major development for BIAS", said Jason E. Davies, VP of Business Development for BIAS, Inc. "The combination of precision sample editing, intuitive multi-channel mixing, and a broad palette of mastering and restoration tools, makes Peak Studio a compelling audio production suite for Mac OS X."
Peak Studio features
Advanced Mastering, Restoration, and More

: Peak Pro 7 includes a new de-clipping tool for repairing audio files. "Clipped" recordings are corrected using advanced re-synthesis and spectral repair DSP algorithms from BIAS that produce jaw-dropping results. Peak Pro 7 also integrates editions of the highly acclaimed SoundSoap Pro 2 and Master Perfection Suite plug-ins, plus a new wide-band peak limiter. The additional signal processing tools make Peak Pro 7 the most comprehensive audio editing and processing application for Mac OS X in its class. Other enhancements include support for MP3 VBR (Variable Bit Rate) and compressed WAVE files, Japanese CD-TEXT, Pro Tools playback keyboard short cuts, and other improvements. Unlike previous editions, Peak Pro 7 includes DDP (Disc Description Protocol) Export — providing support for this popular pre-master delivery format at no additional charge.

Multi-Channel Audio Production

: Peak Studio provides a new state-of-the-art audio production environment from BIAS — offering intuitive multi-track audio recording, multi-channel editing, mono/stereo/surround mixing, onboard signal processing, cross-fades featuring Bezier curves, independent volume envelopes, integration with Peak, and more. Whether used for streamlined multi-channel editing, multi-track recording, compositing, or surround mixing, Peak Studio users will certainly appreciate the intuitive control and ergonomics in this new and powerful audio production tool.

LP & Tape Archiving

: Peak Studio also includes a new application from BIAS called SoundSaver — a powerful utility optimized for the analog archiving workflow. Whether transferring from analog tapes or vinyl LPs, SoundSaver streamlines the process and produces professional results.

Other Peak Studio Editions

: Peak Studio XT (Extended Technology) adds editions of SoundSoap 2, SoundSoap Pro 2, and Master Perfection Suite for compatibility with most host applications that support the popular AU, VST, and RTAS/AS plug-in formats.
Peak Pro 7 and Peak Pro XT 7 will be available in Q4 2010 at a US Suggested Retail Price of $599 USD and $1199 USD respectively. The Peak Studio multi-channel production environment will be released in Q2 of 2011.
All customers purchasing new retail editions of Peak Pro 6 from November 1st 2010 may receive a free upgrade to Peak Pro Studio when available.
More information: BIAS