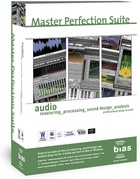 BIAS has released version 1.2 of the Master Perfection Suite, a powerful ensemble of six audio processing plug-ins.
Master Perfection Suite v1.2 includes
The Master Perfection Suite now integrates with a broad range of Audio Units (Mac), RTAS (Mac/Win), and VST (Mac/Win) compatible host applications including: Audition, Cubase, Digital Performer, Live, Logic, Peak, Pro Tools, Sonar, Sound Forge, Wavelab, and more.
In addition to supporting Mac OS X v.10.3.9, 10.4 and Windows XP, the Master Perfection Suite is also fully compatible with Apple's new Mac OS X v.10.5 (Leopard) and Microsoft's Vista operating systems.
The Master Perfection Suite is now available for $599 US SRP through authorized BIAS resellers and distributors worldwide, and directly from BIAS.
Visit BIAS for more information.