SoundEngine has announced the availability of Big Block: Clavinet + Pianet, a new, deep collection of sounds for Logic Pro's EXS24.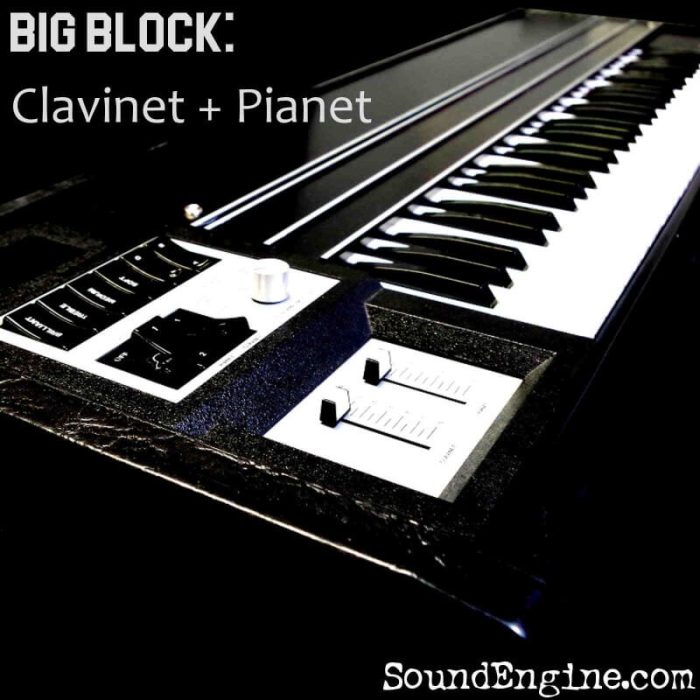 This library started with the restoration of a badly bruised Clavinet / Pianet purchased from a second-hand shop in Milwaukee, Wisconsin. New strings, new dampers and a new pickup were part of the restoration, as well as a deep clean and tuning.

The Clavinet / Pianet itself is a bit of a strange combination – full of recognizable, classic keyboard sounds from the 70's. When you think of "Feeling Stronger Every Day" from Chicago, "Space Race" from Billy Preston, or "Life During Wartime" from Talking Heads, you are thinking of either Pianet or Clavinet sounds.

The Clavinet has, in addition to a physical mute damper for all of the plucked strings, four pickup switch combinations that were faithfully sampled in this library. The SoundEngine Big Block Library preset names indicate which switches were in the "down" position during sampling: AC, BC, BD, or DA. Samples were captured with the Full Mute Damper in place for the AC and BD pickup settings. Key Up noise was also sampled and programmed … a critical component of the Clavinet and Pianet sound.
Big Block: Clavinet + Pianet is available for purchase for an MSRP of $40 USD. A purchase includes lifetime upgrades and free restored libraries if lost.
More information: SoundEngine / Big Block: Clavinet + Pianet