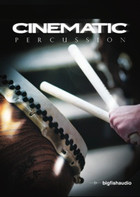 Big Fish Audio has announced that percussion library Cinematic Percussion is now available for pre-order.
Finally a percussion library for every serious composer who needs the highest quality construction kits and samples, featuring live performances from one of the film industry's most sought-after percussionists, MB Gordy.

This DVD contains 2.6 GB of percussion recordings, including deep giant taiko drums, exotic middle eastern hand drums, shakers, metals, beads, timpani, snares, gongs, piatti, tuned slates, oil drums, and waterphones. You can create the perfect rhythmic soundscape: the most bombastic to the eeriest of ambiences, military engagements, island sacrifices, ultimate disasters, spine tingling thrillers, superhero confrontations, chase scenes and more. It's all here for you to mix and match, dice and splice, or just use as-is right of the the box! Pour it into your score and go from 'zero' to 'hero' in 60 seconds!<
Cinematic Percussion features
2.6GB of Cinematic Percussion
30 Construction Kits
Tempos ranging from 60BPM-180BPM
Some Instruments Used: Taiko Drums, Bass Drums, Exotic Middle Eastern Hand Drums, Shakers, Metals, Timpani, Snares, Rattles, Bamboo Box, Gongs, Cymbals, Piatti, Shekere, Orchestral Toms, Oil Drums, Waterphones, Frame Drums, Bongos, Vocal Percussion, …and a lot more.
Cinematic Percussion is now available to pre-order for $ 99.95 USD.
More information: Big Fish Audio / Cinematic Percussion