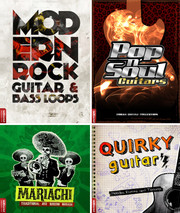 Big Fish Audio has announced Textured, a new series of sample libraries.
The Textured series is a compilation of sonic layers that embody emotional elements of realism and fantasy, fused to create tracks so full of life, you'll be able to feel the soul of the music as it comes alive.

This series knows no musical boundaries and enhances all musical genres its placed with. So whether your needing a few rhythms and textures to add dimension to your existing tracks or want that one of a kind melodic hook that can jump start the creative juices, the Textured Series always has you covered.
Textured Series titles
Modern Rock – Modern Rock Guitar and Bass Loops. This library allows you to harness the creative essence of the electric guitar and bass backed by the raw emotional power of roaring amplifiers, features 27 Kits packed full of the hottest electric guitar and electric bass loops.
Quirky Guitars – Guitar melodies, rhythms, and textures. This extensive collection focuses on Melodies, Rhythms and Textures through the instruments of the acoustic guitar (hi-strung, de-tuned, natural) banjo, mandolin, vintage electric guitars, glockenspiel, bells, music boxes, old synths, organs and others secret ingredients that create a masterful feast fit for any creative genius.
Pop n' Soul Guitars – Urban Guitar Collection. Embrace an amplified soul with this exhaustive collection of R&B, Soul and Pop Guitar Loops, 25 Kits jammed full of the hottest electric, acoustic and nylon guitar loops available.
Mariachi – Modern and Traditional Mariachi. This 3 GB (1.26 GB of 24-bit WAV files) collection of Mariachi Music is 100% live played. Every loop is hand-made and will add just the right amount of hot and spicy for that authentic vibe you tracks crave.
Modern Rock and Pop n' Soul Guitars are available to purchase for $99.95 USD each. Quirky Guitars and Mariachi are $69.95 USD each.
More information: Big Fish Audio / Textured Series