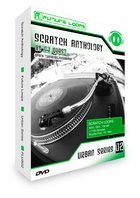 Big Fish Audio has released Future Loops Scratch Anthology, a collection of scratch samples that will add an authentic street flavour to your tracks.
This funky collection was produced by Dj Quest (Space Travelerz, LiveHuman), scratch expert and virtuoso, to delight you with the best turntable sounds on the planet!

Dj Quest created a massive sample library (over 1000 scratch loops) that is both a stand out of his unique talent and many years of experience of scratching and turntable techniques, and also a powerful tool built for extreme usability: you will now be able to access a glorious resource of superior turntable loops that will give that urban feel to your music.
Features
1,10 GB (730MB before content duplications) of scratch/turntable loops.
1143 WAV Files, 143 REX2 Files.
Contains a wide variety of scratch patterns from different eras of the art form: from old
school basic rubs to modern styles such as crab and flare.
The loops vary from 1-2 bar as well as 1/4 and 1/2 note. In addition, the range of sounds expands the usual expected by incorporating cut up instruments (drums, basses, horns, vocal phrases, etc) and electronic sounds for the user to compose tracks completely with "Scratch Anthology."
Samples are categorized in folders by BPM, beginning at 80 BPM all the way to 125 BPM, with increments of 5 BPM per folder.
As a bonus, there is an additional bank with the traditional scratch sounds. Basic Scratches, Combos, and Rubs are a mixture of the different fundamental techniques dj's have performed through the years.
Future Loops Scratch Anthology is available for $99.95 USD.
More information: Big Fish Audio