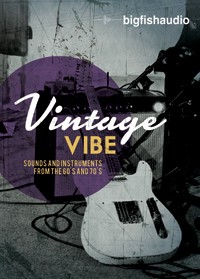 Big Fish Audio has released the Vintage Vibe sample library, a collection of multi-sampled instruments that captures the great retro sounds of classic Rock, R&B, Soul, Funk, Country, and Jazz tracks from the 1960s and 1970s.
The list of instruments ranges from rare, collectible, and even one-of-a-kind pieces to cheap knock-offs and banged-up stuff found in junkyards. Instruments weren't included just because they were rare or expensive. Instead, they were chosen because they sounded cool, and had a unique character: a "vibe" that's often absent from the "meticulously recorded, "pristine" sampled instruments of today.

The drum sets in VINTAGE VIBE are live and open: snares crack and ring and toms thunder, untamed by gates or compressors. Keyboards were sampled clean and through old amps, yielding sounds ranging from "classic" to "borderline psychotic" (see the Filthy Wurlitzer patch). Basses and guitars were set-up to replicate a variety of retro sounds and styles from many musical genres. And for good measure, we even included a psychedelic staple of the late 1960's, the electric sitar.
The sound library is available for Kontakt Player 5 and as a ReFill, priced at $199.95 USD.
More information: Big Fish Audio