Big Fish Audio has announced an update to the Momentum free plugin that is designed to unlock the potential of your loops and samples with the next generation of sound sculpting tools.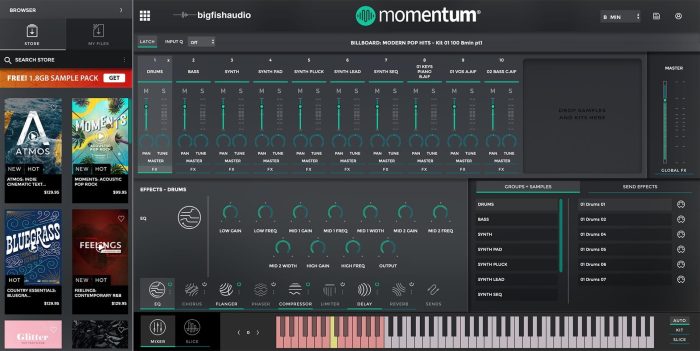 Version 1.2 includes a resizable GUI, improved slice editing, latch mode on the slice page, slice effect overlay, DAW stability improvements, bug fixes, and more.
Momentum is the next generation of KLI. This plugin is a powerful loop transformation platform that allows you to slice, stretch, change the key, rearrange, and compose from multiple samples and sources, as well as find that perfect one-shot inside your loop.

You also have access to Big Fish Audio's world-famous loop libraries right inside the plugin. And unlike other loop platforms, Momentum is completely free and doesn't have any subscription fees.
Changes in Momentum v1.2
"ORIGINAL" now appears in front of the key and BPM fields for a sample on the slice page, indicating that these fields are for a sample's original information.
Slice Effect "Overlay": While editing a particular slice effect parameter on the waveform, the levels of the other parameters can be viewed.
In the lower area of the waveform, there is now a bar / beat grid.
Mouse Waveform Zoom Functions (horizontal zoom, horizontal scroll, vertical zoom).
New options for slice editing including snap slices to grid, snap start/end to grid, reset slices, and clear slices .
Latch Mode is now available on the slice page.
Input Q is now available on the slice page.
Values now display next to the mouse pointer when slice effect levels are adjusted on the waveform.
Adjusting the key via the kit key section of the keyboard now makes immediate changes to audio playback.
Tremolo/Pan effect now has a beat related rate when synced.
Individual effect parameters can now be reset to default by using Command(control on windows)+click.
Compressor "output" parameter is now labeled "makeup gain".
Several groups (channels) can now be soloed at once.
Resizable GUI.
Several bug fixes.
Momentum is a free download. It supports VST, AU and AAX plugin formats for Windows and Mac.
More information: Big Fish Audio