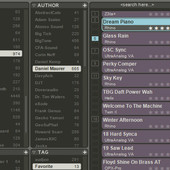 Big Tick Audio has released version 1.6.5 of Zen, a free preset manager for Windows and Mac.
It loads in any host as a vsti, and acts as a loader for other vstis. So with Zen, you can search for "Rhodes piano" and get a list of all matching presets – regardless of the final vsti (Rhino, Zebra, Absynth… whatever). When you select one of the presets in Zen, the corresponding vsti is automatically loaded to play the requested preset.
Changes in Zen v1.6.5
Now available for x64.
Store results of previous plugins scans.
Offer to blacklist any plugins that crashed the previous scan.
Fixed random crashes when deleting a user-defined synth.
Crashes when attempting to load ReaPlugs, or Polyvalens VL1.
Now uses SQLite 3.7.7.1 and FTS4.
Zen for Windows and Mac is available as a free download.
More information: Big Tick Audio