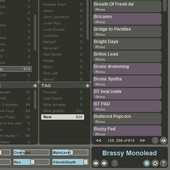 Big Tick Audio has released version 1.4 of Zen, a universal presets manager for Windows and Mac.
It loads in any host as a vsti, and acts as a loader for other vstis. So with Zen, you can search for "Rhodes piano" and get a list of all matching presets – regardless of the final vsti (Rhino, Zebra, Absynth… whatever). When you select one of the presets in Zen, the corresponding vsti is automatically loaded to play the requested preset.

Most popular vstis are supported, and new ones are added daily. Eventually Zen aims to categorize all available presets, for all vstis.
Changes in Zen v1.4
Added a configuration parameter to define rate of UI refreshes.
Added configuration parameters to define the frequency of upload/download tasks.
Added an option for checking for new Zen versions.
Optimized UI refreshes.
Improved skin contrast and fixed pixel alignment bugs.
Added many UI visual feedback (hourglass, icons when uploading/downloading).
Optimized presets tagging speed.
Fixed crashes when removing a user-defined tag.
Fixed stuck downloads.
Fixed bug with recalled presets.
Fixed silent Albino presets in standalone mode.
Zen for Windows and Mac is available as a free download from the Big Tick Audio website.
More information: Big Tick Audio