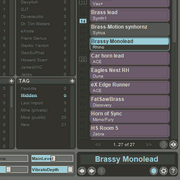 Big Tick has released version 1.5.3 of Zen, the universal presets manager for Windows and Mac.
It loads in any host as a vsti, and acts as a loader for other vstis. So with Zen, you can search for "Rhodes piano" and get a list of all matching presets – regardless of the final vsti (Rhino, Zebra, Absynth… whatever). When you select one of the presets in Zen, the corresponding vsti is automatically loaded to play the requested preset.
Changes in Zen v1.5.3
Added an option to extract/expand tags list with no matches in the current list.
Extended virtual banks slots to 127.
Added a dot indicator to identify untagged presets.
Added support for Audjoo Helix.
Added infobox messages and credits in the config page.
Fixed tooltip message for the previous preset button.
Fixed – sometimes tagging a preset would not be uploaded properly.
Reduced CPU usage with UI refreshes.
Fixed bug with uploading icon (would keep flashing after uploads were finished).
Zen for PC and Mac is available as freeware.
More information: Big Tick Audio