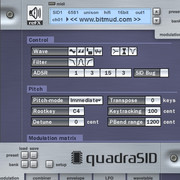 Bitmud has released the quadraSID – Bitmud Unison Soundbank, a collection of patches for the quadraSID virtual synthesizer by reFX.
We just uploaded a new soundbank, this time it is for reFX's quadraSID.

Lex dug in to programming this beast with some fresh sounds and this is what came out! Get it while it's hot from the private area on our website.
The Bitmud Unison Soundbank includes 127 presets and is available as a free download from Bitmud (free registration required).
Bitmud has also added a complete Ableton Live Project and some VST skins to its private area for registered users.
More information: Bitmud