Irrupt and Bitwig have collaborated on an all-new approach to offer premium sound packages within the Bitwig Studio environment.
Today, marking the launch of Irrupt.com, we're proudly presenting the free "Irrupt System" sound package available now in the Bitwig Studio Package Manager.

Irrupt: "We've curated powerful sounds and rhythms – retro, yet still futuristic. It's a mixture of club elements we at Irrupt love and would like to listen to in clubs, and we just wanted to share that passion of ours with the Bitwig community," explains Irrupt. "We also want to show how simple little tweaks can keep your tracks interesting and continue to have some surprising elements in there."

Bitwig: "We love the concept behind Irrupt and were very intrigued by the quality and diversity of their sound elements.The Irrupt Inspiration Generator project, we collaboratively created, is such a beautiful way to explore the great interaction between Irrupt's granular loop structure and Bitwig Studio's clip launcher. Endless Jam fun!" ☺
The Irrupt System features 1GB of sound elements exclusively curated by Irrupt for Bitwig.
100% royalty-free and authentic, these sounds include bass, drums, FX, synths and one-shots. Also discover all-new drum kits and the "Irrupt Inspiration Generator", a Bitwig Project contained pattern generator. Irrupt System sounds and rhythms are designed to take your productions and performances to the cutting edge.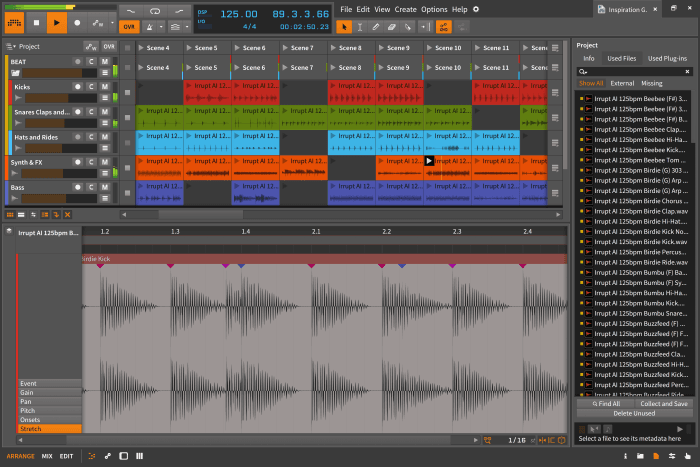 The Irrupt Inspiration Generator is a Bitwig Project designed to inspire you. We've taken a vast collection of "Irrupt System" elements and carefully arranged them within the Bitwig Clip Launcher. Each element, or clip, is set to launch at random intervals, resulting in a spontaneous evolving synergy of granular loops and grooves. Launch a scene, hit record, sit back and discover unique element combinations to use within your own productions. The Irrupt Inspiration Generator is an excellent tool to help breakthrough old ideas, and the perfect place to discover new ones."
For the whole Bitwig community, including Bitwig 8-Track customers and demo users, Irrupt and Bitwig partnered for the creation of the Irrupt Megamix, a demo song loaded with an epic collection of sound element free to use for everyone.
The Irrupt Megamix harnesses the best of both worlds: Arranger and Clip Launcher, fully loaded with an epic collection of elements direct from the Irrupt catalog of sound. Launch the clips in any combination and get inspired by Irrupt's pristine groove and audio production.
Owners of Bitwig Studio can download the complete "Irrupt System" within the Bitwig Package Manager. The "Irrupt Inspiration Generator" is a free new demo project for all Bitwig Studio license holders as part of the "Irrupt System" Package. To get access, download the Irrupt System package, go to File/New from Template/Demo Tab/Irrupt Inspiration Generator.
The whole Bitwig community including Bitwig 8-Track customers can discover the pristine sounds of the Irrupt with the free for all Irrupt Megamix.
More information: Bitwig