Bitwig has announced the a limited Bitwig edition of the ES-8 by Expert Sleepers.
This USB 2.0 class-compliant audio interface in a Eurorack module comes with DC-coupled inputs and outputs, which can be used for both CV/Gate/Clock and audio.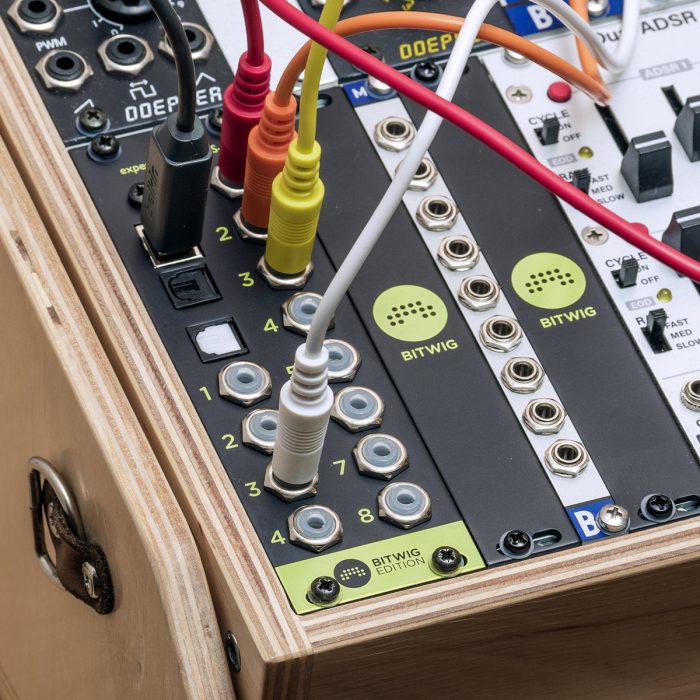 As we've been enhancing Bitwig Studio's integration with analog modular systems, we've been working with a lot of audio interfaces. But the work by Expert Sleepers — aka Andrew Ostler (aka Os) — uniquely solves every challenge: a small module, class-compliant, with plenty of I/O (12 analog, another 16 digital for expansion), and visual feedback on the ports.

The ES-8 was specifically designed for people who want to integrate software with hardware. We find ourselves using the ES-8 whenever we get a chance to showcase Bitwig Studio so a limited Bitwig-branded version just made sense.
Expert Sleepers ES-8 features
Panel width: 8HP.
Module depth: 50mm.
Current draw: 198mA on the +12V rail, 52mA on the -12V rail (at 96kHz).
USB socket: Type B.
Driver suport: class-compliant USB 2.0 (no driver required for macOS and iOS – Windows drivers provided for Windows 7, 8 & 10).
Channel count: 12 in, 16 out.
Supported sample rates: 44.1kHz, 48kHz, 88.2kHz, 96kHz.
Audio sample depth: 24 bit.
Output connections: 8x 3.5mm TS jacks, DC-coupled.
Maximum output voltage: approximately ±10V DC.
Analogue inputs: 4x 3.5mm TS jacks, DC-coupled.
Input voltage range: approximately ±10V.
Digital I/O: 1x ADAT input, 1x ADAT output.
Expansion headers: 1 for ES-5, 1 for ES-6.
Weight: 123g.
The ES-8 Bitwig Edition audio interface is available for 445 EUR.
Bitwig will be at Superbooth18 from May 3rd to 5th, hosting a series of events:
Phase Synthesis Workshop.
Synthesist Reloaded Masterclass with Harald Großkopf.
Open Controller Workshop: Customize your MIDI controller.
Visit Bitwig at booth E241.
More information: Bitwig