Bitwig has announced a promotion in celebration of its 2nd anniversary.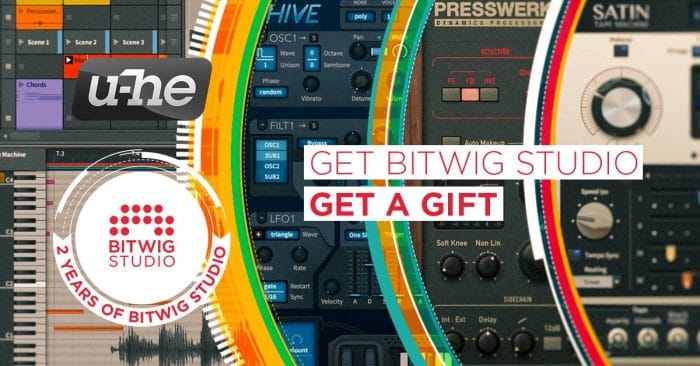 This week marks the second year of Bitwig Studio!

To celebrate, we partnered with our friends at U-He for a very special offer to the community.

Purchase Bitwig Studio from your local store or in our webshop before April 4th, and get your choice of Hive, Presswerk, or Satin for FREE with your purchase.

We've got the goods for our existing customers too:

Go to your account on bitwig.com and claim a €/$50 gift certificate toward the purchase of any U-He plugin.
With the latest Bitwig Studio 1.3.9 version we added preset integration of U-He plugins in the Pop-up Browser.
Oh, and we sneaked cool new sound content in the latest update too.
More on that later…

Clap your hands now.
The offer ends April 4th, 2016.
More information: Bitwig