Bitwig has introduced Bitwig Studio, a new and powerful multi-platform music-creation-system for composing, performing and DJing.
We are very proud to announce our first upcoming product: Bitwig Studio, the next-generation music-creation software, developed and built by passionate musicians wanting a more natural way to create music and sound.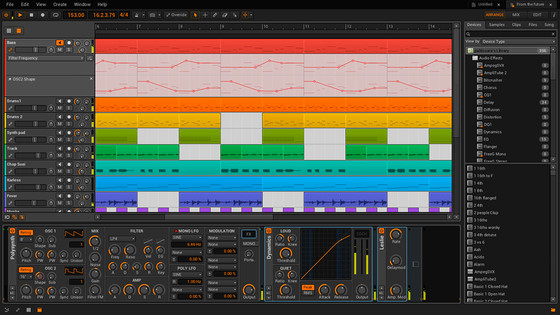 Bitwig Studio features
Multitrack recording

– Record and produce your music in a super-fast, intuitive workflow. Bitwig Studio's arranger is a perfect mix of editing power, ease of use and flexibility.

Arranger clip launcher

– A non-linear environment that lets you trigger clips in real-time. Perfect for sketching your songs more spontaneously.

Mixer clip launcher

– An alternative view of the clip launcher aligned with the mixer, optimized for live performance and DJing.

Generic tracks

– Tracks accept any kind of material. Audio and notes can live on the same track. You can bounce note clips to audio in place.

Clip automation

– In addition to traditional track automation, automation can also be recorded and packaged inside clips, both on the clip launcher and the arranger.

Per-note automation

– Pitch variations can be applied to individual notes directly in the piano roll. You can also edit a note's panning, timbre and volume curves.

Simultaneous multitrack editing

– Edit contents of multiple tracks together. You can see them all juxtaposed and isolate only the ones you want to edit.

Multiple audio events per clip

– An audio clip can contain multiple audio events. You can chop and edit audio files inside a clip non-destructively and loop it all as a package.

Real-time time stretching

– Bitwig Studio's proprietary technology lets you match any audio material to the document tempo and get everything in sync.

World-class sound devices

– Let's put it this way: You're gonna love these instruments and effects. Get great sounds in a matter of seconds.

Device nesting

– Devices can contain other devices, and the whole package can be saved as a preset. Many of our instruments and effects use nesting in new and powerful ways.

32/64 bit VST support

– Use your beloved VST plug-ins. In case of a plug-in crash, a protective mechanism prevents the application from crashing and you from losing your work.

Metadata-based browser

– Find your musical material quickly. Add tags and search by content type.

Open multiple documents

– Exchange musical material between documents. Drag and drop, copy and paste back and forth.

Multi-monitor support

– Bitwig Studio offers flexible screensets to take full advantage of your monitor configuration.

Slick user interface

– Bitwig Studio's user interface has been meticulously crafted to make your music creation experience fun and intuitive.
Features coming after the 1.0 release:
LAN multi-user jamming

– Multiple users can jam on the same document, and everything can be captured in the document's arrangement.

Multi-user music production over the internet

– Multiple users can compose music on the same document from different locations. Bitwig Studio keeps everything in sync.

Native modular system

– Create your own instruments and effects or modify existing ones. Design their appearance and share them with the world.
A beta testing period for Bitwig Studio will start soon. Pricing and release date will be announced at a later date.
More information: Bitwig