Bitwig has announced the upcoming release of Bitwig Studio 3.2, bringing greater control and sculpting possibilities for all sounds, whether coloring audio sources or reinterpreting note messages in new and adventurous ways.
The update comes with new EQ+ and Saturator devices, an updated Arpeggiator with new features and improvements, and more.
The EQ+ brings a new look and modern sound to Bitwig Studio.
Clicking on the EQ curve adds a band that can be dragged right into place. Along with 14 filter options and up to eight bands, EQ+ also has an Adaptive-Q option to narrow the width of bands as their gain increases, in addition to global frequency Shift and Gain controls, 'soloing' a band while dragging it for precise editing, and different oversampling modes.

Taken together, sculpting a sound is now more like drawing the spectrum than twiddling knobs.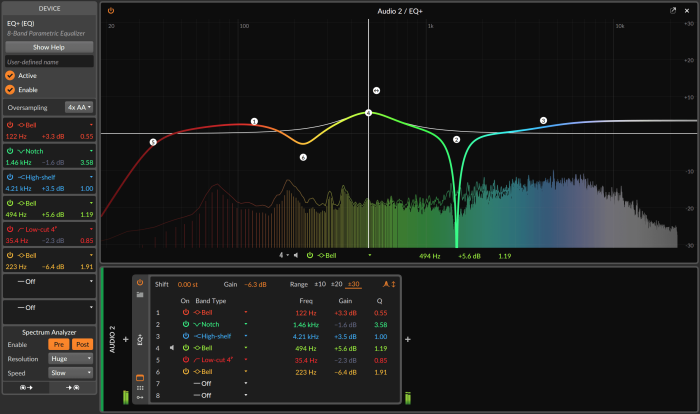 A rainbow color spectrum is applied to the EQ curve, which can now also be seen in the EQ-2 and EQ-5, and frequency controls are now rainbow-ized in various filter and tuning controls across 20+ Bitwig devices.
EQ+ features
Choose between 2x or 4x oversampling.
Freely assignable bands (just click on the curve).
Range selection: good for subtle detail work or radical reshaping.
Color-coded pre- and post-spectrum displays.
Solo of individual bands directly in the editor.
Optional Adaptive Q.
14 filter types available for each band.
Global frequency shift and gain.
Bitwig Studio's new Saturator is a unique waveshaper for cooking up any sound material with adding the right amount of buzzing, rumble and warmth.
Unlike most waveshapers or distortions, this one works in the log domain, just like your ears. So with Saturator, richness can be added to any sound in just the right places.

The basic, high-level panel displays the curve being applied along with Drive, gain Normalize, and low-pass controls that can either lighten the saturation or turn it into a dynamics processor.
The expanded curve editor offers a matching set of Threshold, transform Amount, and Knee controls for the Quiet and Loud portions of the signal. And additional skew controls take the Loud sounds and treat the positive and negative transients differently, adding additional richness to the sound and spectrum.
A Saturator module has also been added to The Grid, where polyphony allows each note to be independently shaped for even more sonic possibilities.
The Arpeggiator has added a number of features and possibilities. Along with controls for velocity and note length, each step now has a pitch control too, like step sequencing new patterns on top of the notes being held. And for those using MPE-enabled or other advanced controllers, micro-pitch changes are now tracked, and per-note pressure messages will update note velocities for more dynamic performances.
Additionally, a number of new arpeggiation shapes have been added to either blossom out from the center, spiral in toward the middle, keep the order notes were played in, and more. You can also swap the synced timing out for a millisecond clock, maybe to stutter the end of a phrase. Or keep a note interval but play it off the beat grid. Or turn global note length up to 400% and let notes overlap for new harmonies. Or even Humanize step start times and velocities. The piano interface is newly flexible.
Create evolving sounds with an improved Arpeggiator, new voice modes for the Instrument Selector, Note FX Selector, and audio FX Selector. The update also includes some requested workflow enhancements and new and updated Grid modules.
The Bitwig Studio 3.2 release is planned for Q2, 2020. It is a free upgrade to everyone with an active Upgrade Plan for Bitwig Studio. Bitwig Studio 16-Track and Bitwig Studio 8-Track will also get updated, but the new devices are only available in the full version of Bitwig Studio.
All Bitwig Studio users with an active Upgrade Plan can now download and test the beta.
More information: Bitwig