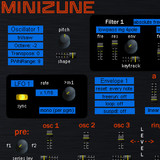 Bïzune has announced the release of the Miniak MIDI Suite, a software suite for the new AKAI Miniak synthesizer.
The bundle contains two separate programs, the Minizune parameter editor and the Groove-Mod rhythm sequencer. Together they expand the Miniak's functionality and unlock the full potential of it's powerful synth engine.
Designed by the developers of the Alesis Micron software editor, Minizune is an essential tool for overcoming the challenges of the Miniak's compact layout. Operating as a standalone PC application or VSTi Plugin, it provides control of the Miniak's parameters with an attractive and inspiring interface. The MIDI Learn feature enables convenient integration and assignment of external MIDI controllers and the parameters can be automated from a VST Host.

Providing unprecedented control of the Miniak's rhythm mode, the Groove-Mod standalone application transforms the Miniak into a full featured virtual analog drum machine. Rhythms can be programmed on the step sequencers and then recorded into the Miniak's sequencer for standalone playback. Mute buttons and virtual sliders are provided for effortless mixing of each drum sequence. In addition to the percussion voices, four reversible modulation sequencers can be programmed for unusual morphing beats.

Above and beyond a conventional software editor, Bïzune's Miniak Suite adds control features and modulation sources not available on the hardware itself, the first ever Softmod for a musical instrument.
The Minizune Editor and Miniak Groove-Mod are available to purchase for $33 USD individually or $50 USD for both programs.
Visit Bïzune for more information.