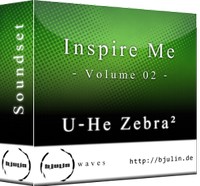 Bjulin Waves has released Inspire Me Vol 02, a soundset for the virtual wireless modular Zebra software synthesizer by u-he.
InspireMe Vol. 02 is a great little Package of very inspiring sounds. It continues with very high quality patches like Vol. 01.

There are 26 sounds in 5 categories (25 original + 1 variation): Atmosphere, Bass, Effects, Leads-Keys and Pads.

Of course, ModWheel and X/Y-Pads are assigned to squeeze out some nice movements. – Did I ever say, that I love Zebra²? Well… I do! –
The soundset costs 5 EUR.
Visit Bjulin Waves for more information.