Pluginfox has launched a sale on Nomad Factory, offering discounts of up to 80% off regular on its audio effect plugins and bundles for a limited time only.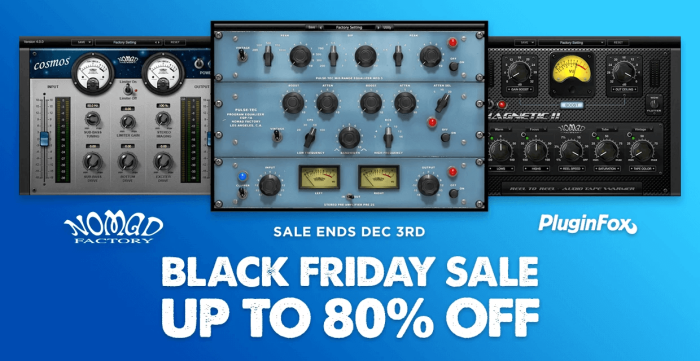 The sale includes popular plugins such as Pulse-Tec EQs, Magnetic II, Cosmos, and the 80's Spaces reverb plugin.
80's Spaces is an original "80's vibes" plug-in that was initiated by Plugivery CEO Eric Nolot and old time friend Bernie Torelli of Nomad Factory 3 years ago and is surely the most original and creative plug-in ever built by Nomad Factory.

It "magically" reproduces the typical reverbs and space effect units used by legendary artists such as Michael Jackson, Madonna, Duran Duran, Guns N' Roses, Tears for Fears, David Bowie, Depeche Mode, U2, Eurythmics, George Michael, Phil Collins, Queen and so many others.

Your classic gated reverbs, lush, cavernous and sweeping tails, short rooms and chorused verbs are all here with minimal adjustments required in a single-plated interface for use as an insert or on aux tracks with dry/wet control for mix blend, chorus, decay, gate, filter and other parameters at hand.
The offer expires December 3rd, 2019.
More information: Nomad Factory