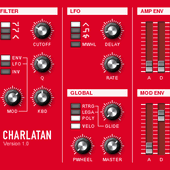 BlauKraut Engineering has updated the Charlatan virtual synthesizer to version 1.1.3.
Charlatan is a polyphonic, subtractive virtual analog software synthesizer plugin whose design focuses on sound quality and easy usability.
Changes in Charlatan v1.1.3
Bug fix: corrected placement of non-linearities in 4-pole low-pass filter. Mainly noticeable with high resonance.
Filter key tracking: account for glide and pitch bend.
Introduced slight pitch tuning error of voices in polyphonic mode.
Detune parameter is now non-linear to make it easy to dial in small values.
Minor tweaking of presets.
Charlatan is available to download as a freeware VST instrument plugin for Windows.
More information: BlauKraut Engineering