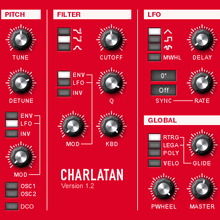 BlauKraut Engineering has released version 1.2.1 of the Charlatan freeware synthesizer instrument plug-in for Windows.
Charlatan is a polyphonic, subtractive virtual analog software synthesizer plugin whose design focuses on sound quality and easy usability. The design philosophy was to provide a feature set just large enough to cover a wide range of sounds rather than an infinite number of parameters and modulation options cluttering the user interface and distracting from the creative process. That said, Charlatan's synthesis architecture is flexible enough to create all kinds of sounds, from conventional classic leads, basses and pads to weird blips and noises.
Changes in Charlatan v1.2.1
Ring modulator: perform DC blocking at output rather than inputs.
Envelopes: reduce minimum decay/release time to 4ms.
Less excessive smoothing of filter cutoff parameter (adaptive to audio buffer block size): allows more accurate automation.
GUI: change color of version text to light gray (for people changing background color).
Minor filter tweaks.
Minor envelope tweaks.
Support Cockos VST extension to display correct parameter values in automation envelope lanes in REAPER.
Compiled with latest version of Microsoft(R) compiler: possibly improved Windows(R) XP compatibility.
Charlatan for Windows (VST) is a free download.
More information: BlauKraut Engineering