Blind Dog Designs has released Shepherd, an instrument plugin based on sub-period mixing. Sub-period mixing allows component waveforms to alternate across shorter than wavelength order time segments.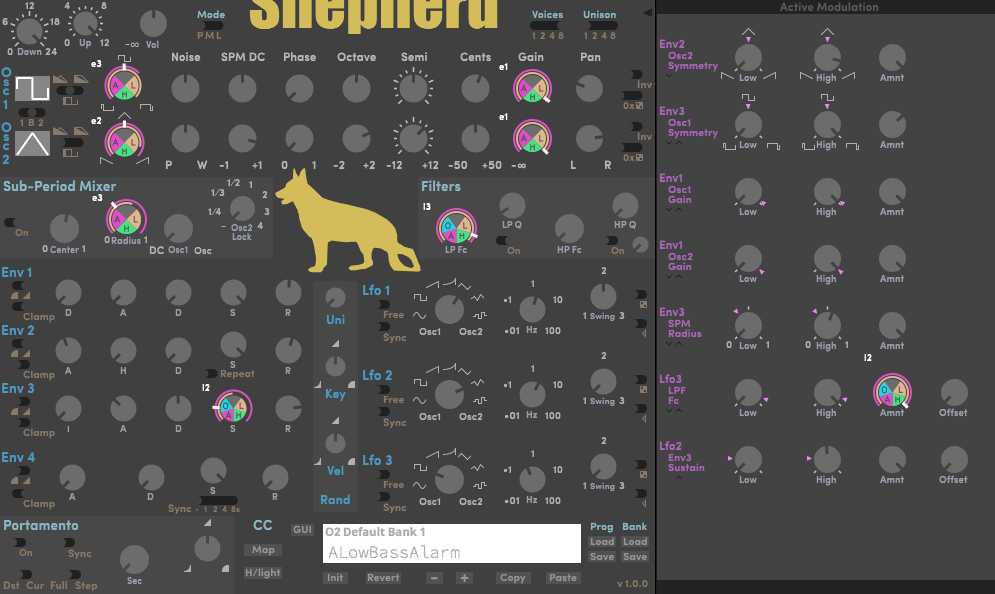 It's hard to imagine a generation of musicians inspired by re-makes of the instruments and sounds that the previous generation is now nostalgic for. Or we'd all still be playing the harpsichord. Or whatever came before the harpsichord.

No samples. No wavetables. Just synthesis. Period.
And sub-period mixing. Sub period.
Shepherd features
Two oscillators per voice (plus sub-period mixing), with triangle/saw, square/pulse, and trapezoid/saw continuous waveforms.
Seven parameters (five of which are modulatable) dictate sub-period mixing.
DADSR, AHDSR (with repeat), IADSR, and ADSR (host-syncable) envelopes simultaneously available.
Three LFOs per voice, each with swing.
Additional modulation from each oscillator, keyboard tracking, note velocity, random elements, and a unison ladder (with controllable asymmetry).
Drag-and-drop allows intuitive chaining, bypassing, and reordering of modulation assignments.
Visual elements generated dynamically for modulation assignments allow single-level GUI layout with no menus/pages.
Includes sound design by Kaitlyn Aurelia Smith, ZAVOLOKA, Edward Rogers, and Container.
Shepherd for Windows and Mac (VST/AU) is available for purchase for $65 USD.
More information: Blind Dog Designs