Blinksonic° has announced the release of CATALIZ°, a playable granular synthesizer and beatlooper instrument for Native Instruments Reaktor 6.
CATALIZ° offers a refreshed approach to produce playable harmonics and beats or creative sound design.
Much more than an edition tool, CATALIZ° is an authentic instrument for granular synthesis real time performances. One cursor action on the pad can produce drastic and expressive modulation and harmonic changes. Thanks to the second GUI view of the instrument, which comes with a wider XY pad, the cursor can also be controlled by internal or external touchscreens.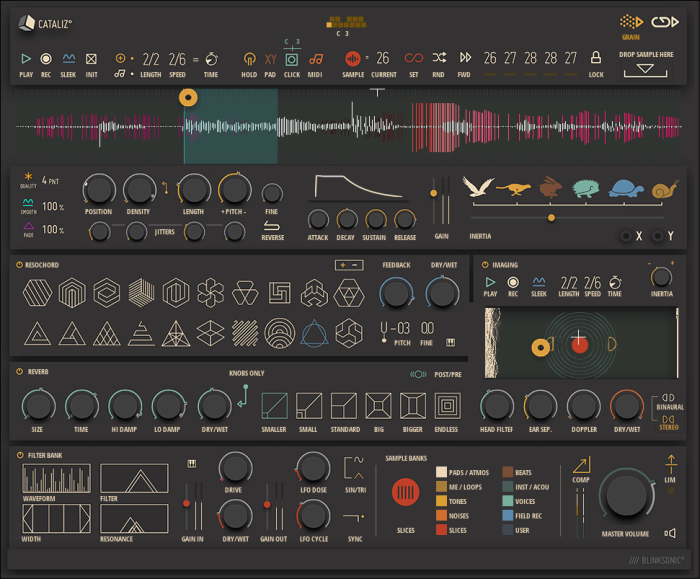 CATALIZ° features
2 sample engines (Grain Cloud and Beat Looper) based on Table Framework.
Granular engine with control of the position, density, length, pitch, reverse mode, ADSR envelope, 4 jitters modulation.
Beatlooper engine with control of the position, length, transpose, offset, slice size, warp speed.
XY pad controller with inertia level to control velocity of the cursor movement and note generator on click.
Notes and modulations recorder on 64 steps (self sequenced instrument).
9 banks with up to 99 sounds (1.3 GB of sounds) + 1 user bank.
Drop your own samples.
6 sample selectors – 1 for the current selection + 5 additionals that work in RND and FFW modes ( sample changes according the selection on each incoming gate events).
Resochord with 20 switchable presets, pitch/fine tuning and feedback commands. Chords pitch can also be controlled by midi.
Space reverb with 6 types (Small Room to Endless).
Stereo/Binaural/Doppler effect with XY pad to control the imaging + inertia level and position recorder.
Filter bank (Modal synthesis) with LFO + frequency control via keyboard.
Pump Compressor and Brickwall Limiter.
Regularly 89 EUR, CATALIZ° is on sale for 69 EUR for a limited time.
More information: Blinksonic°