Blinksonic° has announced the release of Ruidoz v2 and Aetønz, two new ensembles for Native Instruments Reaktor 5 and 6.
Ruidoz v2
Ruidoz v2 is an updated version of the Ruidoz sample mangler instrument.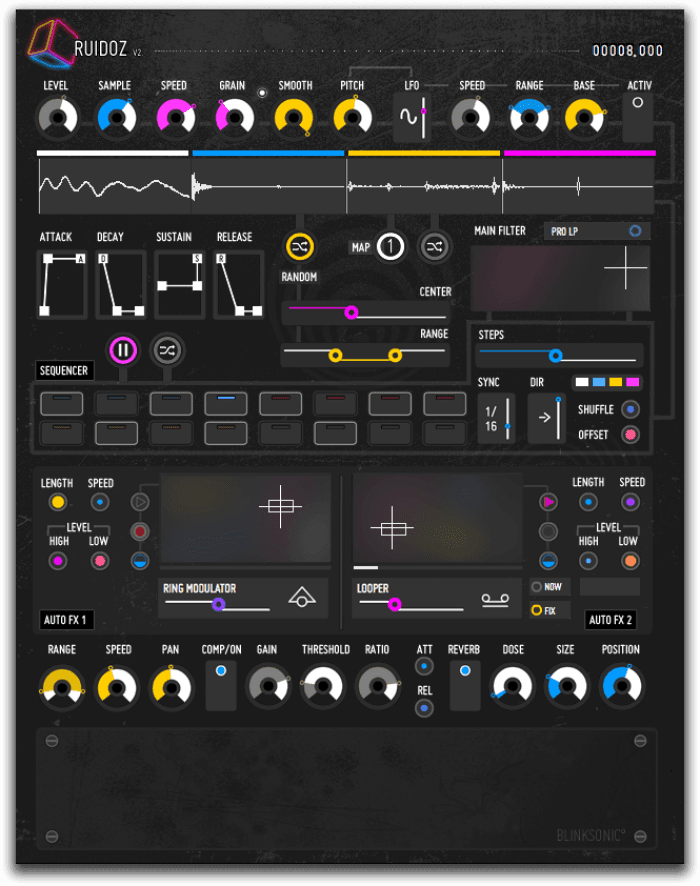 RUIDOZ V.2 is a beat generator based on the randomization of samples events. This sound design instrument can create rhythmical sequences and a wide variety of sound textures.

It's also a collection of 340 micro samples (pieces of electric charges, of liquid flows, of wood and metallic impacts) that aim to be part of rhythmic percussion kits.
New in Ruidoz v2
New GUI.
Enhanced random function with the possibilities to adjust the range of randomization of the samples selection.
Control Pitch envelope with LFO.
4 maps (instead of only 1).
Random map button (it's getting really weird!)
Improved ADSR enveloppe.
Threshold, Ratio, Attack, Release parameters are now revealed and available.
Additional Auto Fx section with 8 new effects and instant launch of the effect with momentary button.
Aetønz
Aetønz is a sampler synthesizer designed for playing poly harmonic textures.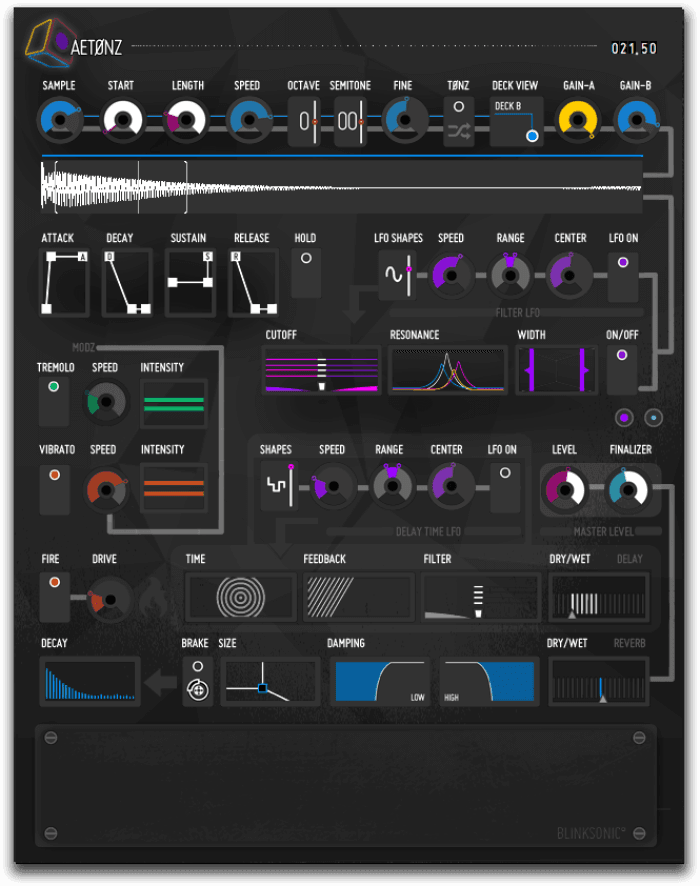 Based on 2 resynth engines and a line of 6 effects aimed to contextualize your sound, AETØNZ shows an other way to use granular synthesis for rearranging classic analogs and digitals tones. By merging the 2 signals of the sampler, AETØNZ lets you create new keyboard sets with subliminal background textures. These back layer sounds are generated randomly on every notes and can produce fascinating soundscapes and experimental timbres.

As a good source of inspiration, AETØNZ comes with more than 200 snapshots on which you can improvise in realtime and invent surprising polytonals chords. Play further notes in scale, you get random combination of textures that stay in tune. The sound is moving .. but the harmony is still ! Sometime it sounds weird, sometime it generates rich atmospheres .. you will always get something different !
Aetønz features
2 decks tones arrangers in which you can define the loop position (kind of oscillator) with precise pitch/tune definition.
2 maps with 114 originals one-shot samples.
9 banks with 207 snapshots in total.
1 stereo mixer to adjust the level of each decks.
Tønz button: To enable instant randomisation of the sample selection on every gate events (notes on/off).
ADSR enveloppe.
Low/Highpass filter with the « Cutoff « parameter slaved to an LFO (4 shapes: Pulse, Triangle, Sin and Random).
Shaper/overdriver.
Tremolo.
Vibrato.
Filter Delay with the « Time » parameter slaved to an LFO (4 shapes: Pulse, Triangle, Sin and Random).
Space Reverb.
Normalizer.
Hold Keys button (latch).
Scale quantizer with 17 scales.
Root scale note selector.
Bank and snapshots browser knobs.
Original Flat GUI with graphic representation of parameters and various values indicators.
2 screen views (switch A/B in Reaktor): Desk view and Synth view.
Ruidoz v2 and Aetønz for Reaktor 5.9.2 or above (full version) are available for purchase for 19.99 EUR each. A bundle of both is 29.99 EUR.
More information: Blinksonic°