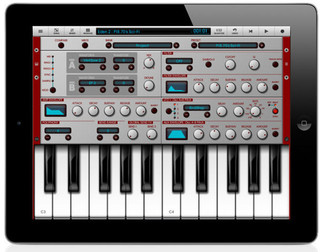 Blip Interactive has updated its NanoStudio music production app for iOS to version 1.33.
NanoStudio is a recording studio for iOS, OS X and Windows. It has virtual analogue synths, sample trigger pads, a comprehensive sequencer, a sample editor, a mixer and multiple effects all integrated into a single application.
Changes in NanoStudio v1.33
Retina display support for new iPad.
Eden sample page supports note slicing, so samples can be sliced across the keyboard in up to 64 slices.
Files can be emailed from within NanoStudio.
.nsp, .wav and .mid files are now associated so they can be opened with NanoStudio from other apps.
.nsp files are associated so they can now be opened with NanoStudio by double-clicking (OS X/Windows).
Computer keyboard support for typing file names, playing keys/pads and basic sequencer operation (OS X/Windows).
NanoStudio for OS X is now available via the Mac app store.
Fixed: Projects were not always exported with relative sample paths (so they had to be decompressed to the same folder path to work).
Fixed: Using AV adapter on iOS causes crash.
Fixed: Channel L/R buttons in mixer are sometimes visible when they shouldn't be.
Fixed: The last note event of a loop section was sometimes played at the beginning of the loop when resampling with pre-roll enabled.
Fixed: Tapping FX indicator on mixer channel sometimes selects the wrong channel (iPad).
Fixed: When using more than 32 mixer channels, the later channels would sometimes be silent.
Fixed: NanoStudio would shutdown the network MIDI session for other apps on start up.
Fixed: Removed small click on the end of a couple of default TRG samples (eg. 808 BD).
Fixed: Couldn't set metronome to zero volume.
NanoStudio is available to purchase from the iTunes App Store for $14.99 USD / 11.99 EUR.
More information: Blip Interactive