Blue Cat Audio has released its previously announced acoustic feedback simulation Blue Cat's AcouFiend, an audio effect plugin that can make electric guitars scream, growl, or sing, even at low volume or through headphones.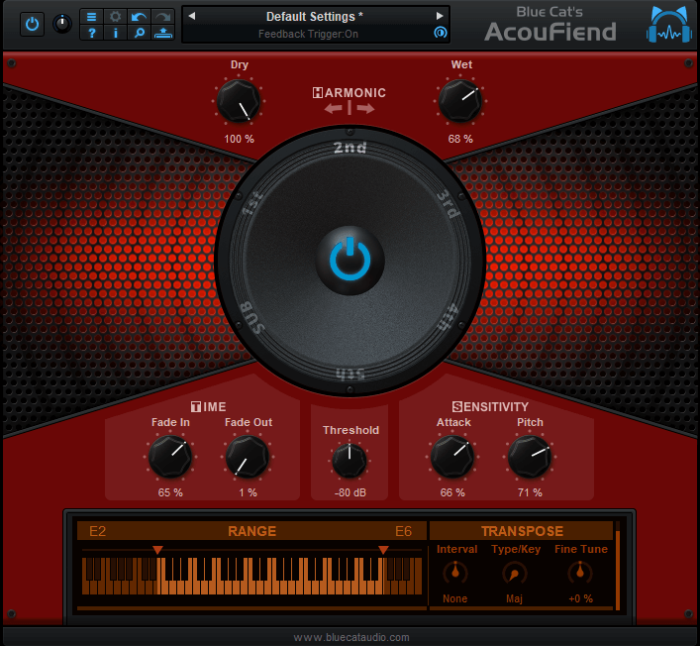 AcouFiend can simulate the acoustic feedback (a.k.a. "Larsen effect") well known to guitarists playing loud and close to their speaker, but with total control over the effect: you can choose when and how to trigger the feedback, on sustained notes or chords, with advanced harmonization capabilities.

The plugin can be controlled via MIDI or automation, and feedback can be applied to existing tracks after recording.
AcouFiend features
Acoustic feedback simulator.
Total control over the feedback: adjust the rise and fall time, the sensitivity to pitch and amplitude changes, and the generated harmonic.
Supports chords.
Limit the range of notes that can produce feedback.
Transpose the feedback signal to create harmonies.
No latency.
The new AcouFiend plugin is available at an intro price of 59 USD/EUR until March 31st (regular 79 USD/EUR). It is also included in the Axe Pack bundle, which is 249 EUR/USD during the promotion.
More information: Blue Cat Audio