Blue Cat Audio has released an update for its multiple tracks audio analyzers, Blue Cat's FreqAnalyst Multi, Oscilloscope Multi, and StereoScope Multi.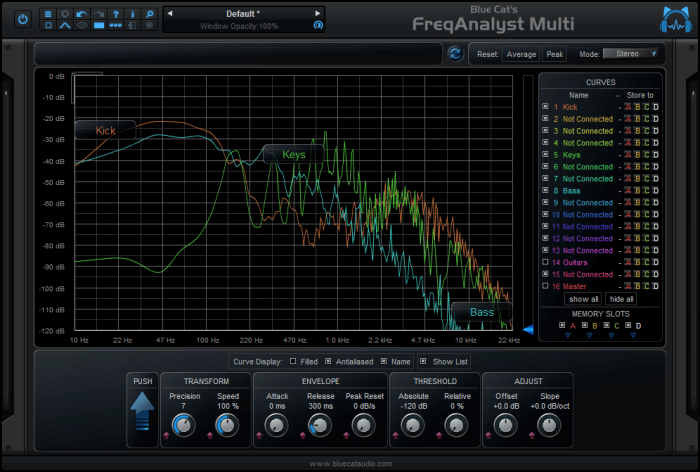 The new versions of the three plugins come with an updated zoomable graphical user interface to improve readability on any type of screen.
And audio analysis is now performed in the background, which greatly improves CPU usage and does not affect audio performance anymore, whatever the number of instances running in a session. Thanks to this new design, the spectrum analysis precision setting can now be pushed up to 11, with twice more frequencies to display.
Presets management has also been improved, so that recalling your favorite analysis configurations is much faster. The update contains many other improvements and a few bug fixes.
Changes in plugins
Refreshed GUI design, with improved usability and touchscreen support.
The GUI can now be zoomed from 70% to 200%.
Last loaded preset is now remembered in session and displayed in the presets menu.
Plug-in state can now be reverted to the last loaded preset.
Now supports retina displays on Mac (text and graphs using high resolution).
VST3: added support for MIDI program change messages to change presets via MIDI.
VST3: fixed audio output muted in some host applications.
VST: the user interface is now properly resized in Cubase on Windows.
Mac: new installer.
Mac: fixed minor compatibility issues with Mac OS High Sierra and Mojave.
Dropped support for Windows XP and Mac OS X 10.6 and earlier.
Dropped support for legacy RTAS and DirectX plug-ins formats.
Fully compatible with previous versions of the plug-in (except for VST3 on Mac).
[FreqAnalyst Multi / StereoScope Multi 2.3] Spectrum analysis is now performed in the background and does not affect audio performance.
[FreqAnalyst Multi 2.3] Precision now goes up to 11.
[StereoScope Multi 2.3] Fixed a crash when the plug-in was fed with invalid audio data (infinite numbers).
The new version is free for existing customers.
In celebration of the update, all three plugins are on sale for 79 USD/EUR each (regular 99 USD/EUR) and the Multi Pack is 129 USD/EUR. Other analysis and metering plugins are up to 30% off during the promotion.
The offer expires July 10th, 2019.
More information: Blue Cat Audio