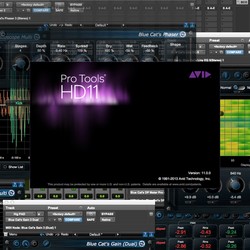 Blue Cat Audio has released a new version of twelve of its professional audio plug-ins: Blue Cat's DP Meter Pro (audio levels meter), FreqAnalyst Multi (multiple tracks spectrum analyzer), Oscilloscope Multi (multiple tracks waveform visualizer), StereoScope Multi (multiple tracks stereo field analyzer), Blue Cat's Protector (zero latency brickwall limiter), Blue Cat's Liny EQ (low latency linear phase EQ), and the complete Blue Cat's Freeware Pack (6 free plug-ins) are now available for Pro Tools 11.
These updates mainly add 64-bit AAX support for Pro Tools 11, and bring additional fixes and enhancements on both Mac and PC for other plug-ins formats (see details below).

The update for commercial plug-ins is free for existing customers and is available for download from the same locations as the previous versions. Blue Cat's Freeware Pack is available for free on www.bluecataudio.com. All plug-ins support VST, Audio Unit, RTAS, AAX and DirectX formats for Mac and PC and are compatible with 32-bit or 64-bit applications.
Changes in Blue Cat Audio plugins
All plug-ins:

64-bit AAX support for Pro Tools 11.

Additional changes for Blue Cat's Freeware Pack:

Audio Suite support for offline processing in Pro Tools (AAX).
The windows installer now automatically detects the most appropriate VST install path.
Fixed AAX version not showing up in Pro Tools 10.3.5 on Windows.
(RTAS) Fixed parameters control with EUCON control surfaces in Pro Tools.
Fixed user interface issues in Final Cut Pro X.
Fixed compare button issues in Pro Tools.
Mac-VST: Fixed window resize issues on Cubase and Nuendo (Mac).
Mac: Control MIDI settings dialog now brought back to front when already opened in the background.
More information: Blue Cat Audio