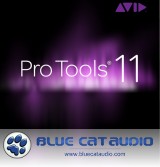 Blue Cat Audio has announced the release of an update for 9 additional plug-ins to support Pro Tools 11, and announces summer sales to celebrate that all 21 Blue Cat Audio plug-ins are now available in 32 and 64-bit AAX Native format.
Pro Tools 11 users can now enjoy Blue Cat's Dynamics (broadband dynamics processor), MB-7 Mixer (multiband mixing tool), MB-5 Dynamix (multiband dynamics processor), FreqAnalyst Pro (spectrum analyzer), StereoScope Pro (stereo field analyzer), the Blue Cat's Parametr'EQ series (Parametric equalizers) and Blue Cat's Remote Control (virtual control surface) on their system, in addition to the 12 other plug-ins released last week.

The update is free for existing customers and is available for download from the same page as the initial purchase. Special prices for the release of these new Pro Tools 11-compatible versions will be available until the end of July (15% off all plug-ins and 10% off all bundles). They apply to all plug-in formats: VST, Audio Unit, RTAS, AAX and DirectX.
The sale ends July 31st, 2013.
More information: Blue Cat Audio