Blue Cat Audio has released an update to all of its audio analysis and metering plugins, including the fully refreshed FreqAnalyst Pro 2.0 and StereoScope Pro 2.0 plugins.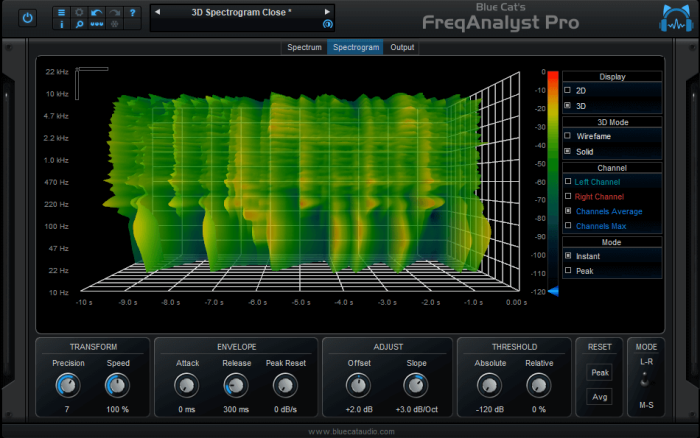 The brand new versions of these two plug-ins have a completely refreshed (zoomable) GUI design, a new background processing implementation with improved precision, VST3 support, and many new features and enhancements.
The other four plugins mainly bring user interface improvements and bug fixes for the Mac platform. This is a recommended free upgrade for all registered users.
Changes in the update
Audio analysis is now performed in the background and does not affect audio performance at all.
FreqAnalyst Pro: FFT precision now goes up to 11.
StereoScope Pro: new "Stereo Spread" measurement that shows how the signal is spread in the stereo field.
Refreshed GUI design, with improved usability and touchscreen support.
The GUI can now be zoomed from 70% to 200%.
Now supports retina displays on Mac (text and graphs using high resolution).
Save each memory curve as a file that can be reloaded later as a reference.
Copy and paste memory curves between instances using the system clipboard.
Factory and user skins can now be selected directly from the plug-in menu.
VST: the user interface is now properly resized in Cubase on Windows.
New installer on Mac.
Brand new presets management system.
Presets can now be selected using MIDI Program change and bank select messages (can be activated with the presets menu/MIDI Program Change item).
Copy/paste the plug-in's current state from the presets menu using the system clipboard.
Now compatible with MacOS Catalina and Big Sur.
VST3 plug-in format support.
Audio Suite support for offline analysis in Pro Tools.
Dropped support for Windows XP and Mac OS X 10.6 and earlier.
Dropped support for legacy RTAS and DirectX plug-ins formats.
What's New For Other Plug-Ins:
New high resolution graphics for knobs.
Reduced disk footprint.
Mac: fixed GUI performance issues on native P3 displays and improved performance on other displays.
Mac: fixed mouse wheel that required large movements to change parameter values.
Mac: fixed mouse cursor flickering issues.
Mac: fixed Esc key not closing fine edit parameter dialog.
To celebrate the update, new customers can purchase the plugins at up to 30% off until December 5th, 2020. Blue Cat Audio customers are sent special offers by email.
More information: Blue Cat Audio