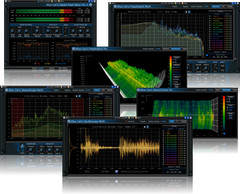 Blue Cat Audio has announced the release of new versions of its flagship audio analysis plug-ins included in Blue Cat's Analysis Pack.
The update includes a new look and feel, many user interface improvements and 64-bit VST format support on the Mac for all plug-ins as well as individual enhancements and new features detailed below.

These audio analysis tools are available as a single bundle (Blue Cat's Analysis Pack) or separately, in VST, RTAS, DirectX or Audio Unit formats for Windows and Mac OS X. The bundle contains a versatile audio level meter, spectrum and stereo field analyzers with 3D viewing capabilities, and a multiple tracks oscilloscope.

While the "Multi" series propose simultaneous analysis of multiple tracks with multiple instances linking support, the "Pro" series can extract parameters from the incoming audio signal and record them as automation curves, or send them as MIDI CC messages. Typical applications are the creation of custom side chaining effects or signal-based external hardware control.
Changes in Blue Cat Audio plugins
All plug-ins

:

64-bit Mac VST support.
User interface enhancements:

New look and feel with improved readability.
Zooming is now animated.
Controls can be collapsed to reduce the size of the user interface and focus on the analysis.
Improved consistency for all user interfaces.
Drag the rulers to move the curves when zoomed (can keep measurement/selection mode and still drag the curves).

Default release time for analysis is now shorter.

Multi Series plug-ins

:

New parameters synchronization feature: analysis settings can now be pushed from one instance to others to simplify the workflow.

Oscilloscope Multi

:

New histogram view.
New delay compensation feature to compare out of sync waveforms.

Digital Peak Meter Pro

:

K-10 scale support.
Peformance improvements.
Demo versions are available for download on www.bluecataudio.com, and the site offers many tutorials to get started with these plugins on various hosts and platforms. The upgrade is free for existing customers.
More information: Blue Cat Audio / Analysis Pack