Blue Cat Audio has announced the release of Blue Cat's Plug'n Script 2.0, a new version of the scripting plug-in that can be programmed to build custom audio and MIDI effects or virtual instruments inside most Digital Audio Workstations (DAW). The plug-in is now also available as part of a new bundle: Blue Cat's Crafters Pack.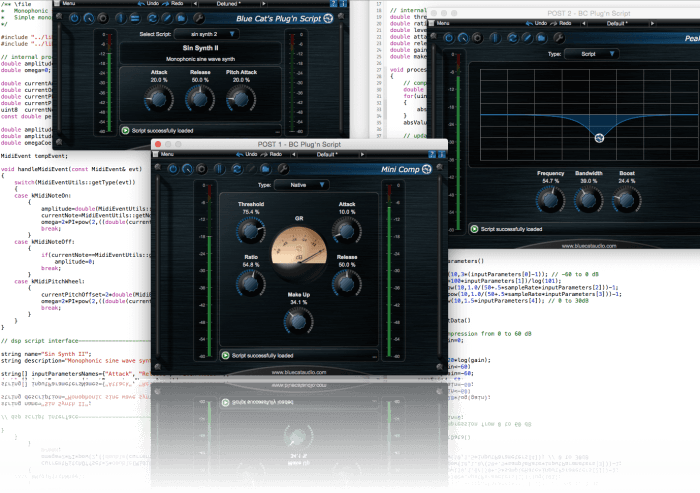 This new version of the plug-in brings many improvements, such as an extra side chain input and multiple auxiliary outputs, native (compiled) scripts support and enhanced user interface. It also includes many new scripts, presets and skins with full source code (published in the company's github repository – https://github.com/bluecataudio/plugnscript).

This is a major step forward for plug-ins users and creators: with the same performance as native plug-ins and access to third party libraries, programmers can now release powerful scripts that can be loaded in almost any DAW, with the choice to disclose the source code or not.

The plug-in is available alone or as part of Blue Cat's Crafters Pack, a new bundle designed for creative people who care about tools that adapt to their own workflow: it includes Blue Cat Audio's most powerful software to quickly build a custom audio and MIDI toolbox.
Changes in Plug'n Script to v2.0
External side chain and auxiliary outputs support (up to 16 audio outputs).
Native C/C++ scripts support for optimal performance and flexibility.
KUIML 2.0 user interface language support to build custom user interfaces, with additional scripting capabilities.
New DSP scripts, delivered with full angelscript and C++ source code.
21 new custom skins included.
User documentation (html or pdf) can now be added to scripts.
Custom skins can be selected directly from the main menu.
Presets can now be selected using MIDI Program change and bank select messages (can be activated with the presets menu/MIDI Program Change item).
Last loaded preset can now be saved directly from the presets menu without having to select the file.
VST: fixed latency compensation reporting in Cubase (no need to re-enable the plug-in to update the latency anymore).
Blue Cat's Plug'n Script for Windows and Mac (VST/AU/RTAS/AAX/DX) is available at 20% off the regular price of 79 EUR/$99 USD throughout December, 2015. Blue Cat's Crafters Pack is 279 EUR/$339 USD during the sale (regular 329 EUR/$399 USD).
More information: Blue Cat Audio / Blue Cat's Plug'n Script