Blue Cat Audio has released a free update for Blue Cat's PatchWork, a virtual patchbay for plugins with built-in effects.
Version 2.3 adds drag and drop support to move, duplicate or insert plugins anywhere in the plugins matrix. It also brings the impulse response loader from Axiom into the built-in EQ plugin and includes several bug fixes and performance enhancements.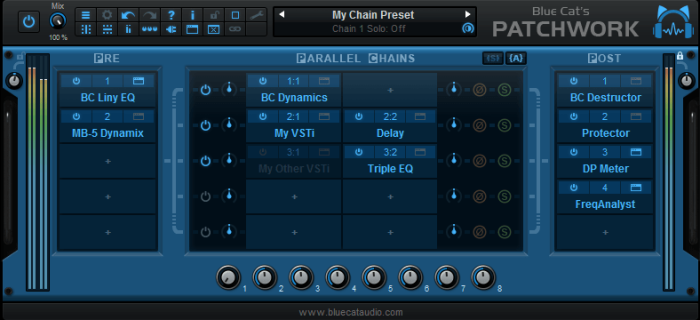 Blue Cat's PatchWork is a universal plug-ins patchbay that can host up to 64 VST, VST3, Audio Unit or built-in plug-ins into any Digital Audio Workstation (DAW) in one instance.

It is possible to chain effects in series or create up to 8 parallel chains that can be activated independently. This lets you create your favorite effects or instruments configurations within the plug-in, without the need for multiple busses. These configurations can be saved as presets and recalled instantly, or shared with multiple DAWs, using any plug-in format (full list below). Use the built-in audio effects to add color to your own plug-in chains.
Changes in Blue Cat's PatchWork v2.3
Drag and drop plug-ins between slots.
Hold the alt key on Mac and Ctrl key on windows to copy (duplicate) a plug-in instead of moving it.
Drop the plug-in before another to insert it in the chain.
Drag and drop plug-ins between several instances of PatchWork or across plug-ins (compatible with the latest preview of Late Replies,
MB-7 Mixer and Axiom).
Drag and drop .dll, .vst, .vst3, or .component files directly from the Finder or Explorer onto plug-in slots.
Drag and drop .plgnfo files (previously saved from the software) directly from the Finder or Explorer onto plug-in slots.
Built-in EQ plug-in can now load and manipulate impulse responses (IR).
Fixed: effect tail not processed anymore when just inserted on a track (avoids using CPU when not necessary).
Fixed: built-in multitap delay plug-in could get out of sync in some host applications.
Improved performance of the built-in EQ plug-in.
Improved performance when saving preset/session with many built-in plug-ins.
Blue Cat's PatchWork is available from Blue Cat Audio had distributor Plugin Boutique for $99 USD / 99 EUR. The update is free to owners of the original version.