Blue Cat Audio has released a free update for Blue Cat's Plug'n Script, the scripting software that can be programmed to create custom audio and MIDI effects or virtual instruments right your Digital Audio Workstations (DAW).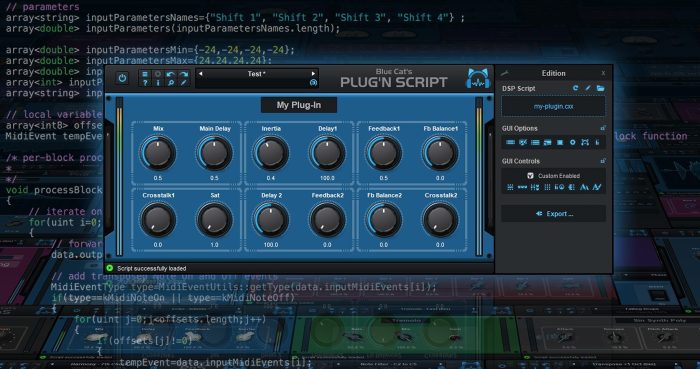 With this plug-in, you can write your own plug-in with very little knowledge about programming. If you do not care about programming, Blue Cat's Plug'n Script can also be used as a regular multi effects processor with existing scripts or to get someone else write this very particular utility you have been searching for years and cannot find anywhere.

If you are an experienced programmer, you will find in Plug'n Script a powerful development environment for audio plug-ins: prototype algorithms quickly, generate a state of the art graphical user interface (GUI) without a single line of code, and export a VST, VST3 or Audio Unit plug-in, right from within your favorite DAW! Creating a plug-in has never been so fast!
With its ability to export independent plugins in AAX format for Pro Tools and Media Composer (in addition to already supported VST, VST3 or Audio Unit plugins formats), the new source code encryption options for exported plugins, the new KUIML 2.6 user interface programming language and the new data sharing features between the DSP and the user interface, this new version is full-featured development environment to create state of the art audio plugins for all Digital Audio Workstations.
Version 3.2 of Plug'n Script also brings full MIDI I/O support for VST3, a new preset browser (also available in exported plugins) and many other improvements.
Changes in Plug'n Script v3.2
DSP script can now be encrypted upon export.
DSP script can now define output strings to share any kind of data with the user interface.
Export plugin in AAX format for Pro Tools and Media Composer (for registered AVID developers).
New presets browser with built-in search (also available in exported plugins).
New version of the KUIML GUI programming language: drag and drop, canvas widget, build time scripting, lazy loading and more.
New oscilloscope sample script (output strings feature demo).
MIDI Program Change preference is now saved into session instead of global preferences, so each instance can now use different MIDI channels. It is also saved in the user default preset.
VST3: added program change support for VST3 plugin format.
VST3: added MIDI output support for VST3 plugin format.
Faster GUI rendering on recent Mac OS systems (up to 5x faster on level meters).
Improved GUI loading time when using many widgets.
Fixed an issue with MIDI control that did not always work properly when the plugin GUI was open.
VST: the user interface is now properly resized in Cubase on Windows.
Improved plugin and app listing in Windows 10 start menu.
Fixed wrong value set by SetProgram function in built-in MIDI library.
Fixed built-in library not always copied to user documents folder.
Fixed scripts menu order on Mac OS Sierra and newer.
Fixed: native widgets in custom user interfaces used to be visible before the layout was done.
The update is free for registered customers. New customers can get 20% off at Plugin Boutique until September 30th, 2019, priced at 79 USD/EUR instead of the regular price of 99 USD/EUR.
The Crafters Pack bundle is on sale for 319 USD/EUR during the sale. It includes FreqAnalyst Multi, MB-7 Mixer, Oscilloscope Multi, PatchWork, Plug'n Script, Remote Control, and StereoScope Multi.
More information: Blue Cat Audio