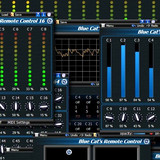 Blue Cat Audio has released version 2.1 of Remote Control, and version 2.4 of Stereo Phaser, a stereo analog-style phaser effect.
Blue Cat Remote Control is a set of plug-ins which let you control and monitor in real time several MIDI controllable plug-ins or devices from a single customizable user interface.
Changes in Remote Control v2.1 / Stereo Phaser v2.4
Mac Audio Unit support.
Mac VST Support.
[Remote Control only] Automation output can now be disabled for hosts that do not propose automated parameters choice.
New Windows installer (you should uninstall any previous version before installing this new one).
New documentation.
Minor user interfaces changes.
The update is free for current users. Demo versions are available for download here.
Visit Blue Cat Audio for more information.