Blue Cat Audio has announced the release of Blue Cat's Re-Guitar, a new guitar tone modeling plugin capable of emulating an infinite number of guitars out of a single instrument.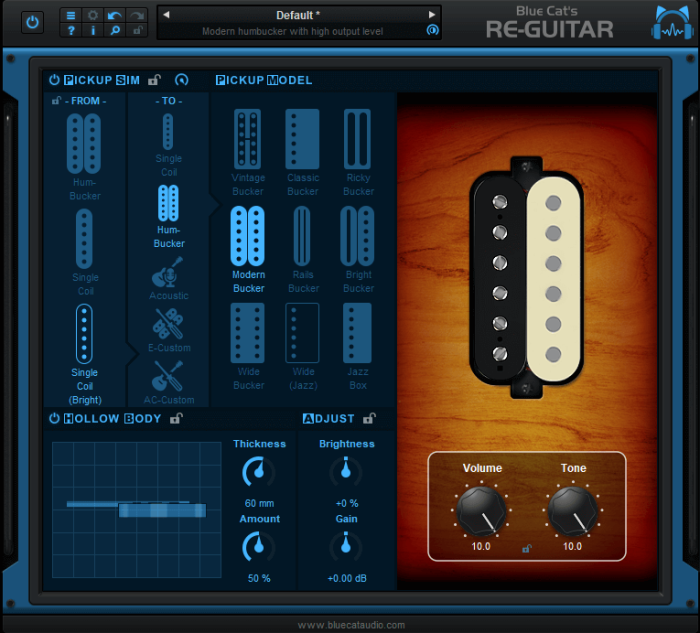 Re-Guitar can simulate many kinds of guitar tones (electric or acoustic), regardless of the solid body guitar model used for recording: you can change the pickups, dig the body or emulate an acoustic guitar, all inside the box, without modifying the original instrument.
"Re-guitaring" can be used to enhance or completely modify the guitar tone while playing your own instrument, or to virtually switch guitars after recording.
Blue Cat's Re-Guitar features
Guitar tone modeler, with electric pickups, acoustic guitars and hollow body emulations.
Built-in single coil pickups: single hot, vintage, modern, active, tele, neck+mid, bridge+mid, P90, P90J.
Built-in humbucker pickups: vintage, classic, ricky, modern, rails, bright, wide, wide(jazz), jazz box.
Built-in piezo & acoustic guitars: solid body piezo, acoustic sim pedals, modern & dreadnought, jumbo, mini jumbo, 000, small.
Create your own electric pickups or acoustic guitar emulations with the custom electric and custom acoustic models.
Adjust hollow body thickness and amount.
Adjust simulations brightness and gain.
Built-in virtual volume and tone pots.
No latency.
The plugin is included as a built-in plugin inside Blue Cat's Axiom, the multi effects processor for guitar and bass that was updated to version 1.2. It is also available separately as an independent plugin and within the Axe Pack guitar software bundle.
Version 1.2 of Axiom includes new "Re-Guitaring" presets using the new plugin, and some fixes of issues with Pitch Shifter, Harmonizer and Pitch Bender plugins when changing modes.
Re-Guitar (VST/VST3/AU/AAX) is available for the introductory price of 69 USD/EUR until April 5th, 2019 (regular 99 USD/EUR) from Blue Cat Audio and distributor Plugin Boutique.
Axiom and the Axe Pack are also on sale at up to 20% off regular during the promotion.