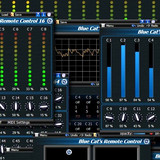 Blue Cat Audio has released version 2.0 of Remote Control, a virtual control surface for Windows PC.
Blue Cat's Remote Control is a set of plug-ins which let you control and monitor in real time several MIDI controllable plug-ins or devices from a single customizable user interface: the User Interface of your favorite DirectX or VST plugin does not satisfy you? Your favorite hardware device is too complicated to control? Your project contains hundreds of plug-ins and you would like to control them all from a single user interface? You want undo/redo for all your modifications? This product was designed for you!
New in Remote Control 2.0
New user interface design.
New joystick skin with XY controls.
Undo/Redo support.
Window Opacity Management: make the plugin window transparent and see behind.
Load/Save presets in a host-independent format: you can now share presets between the directX and VST versions.
New toolbar to access main functionalities.
MIDI settings are now available from the plugin user interface.
Improved Skins loading performance.
Curves are now anti-aliased.
Improved the display of parameters values in the MIDI settings panel and the host application.
Improved graphs refresh rate.
Reduced memory consumption when using several instances.
Default values for MIDI controllers have been changed to be more convenient.
Blue Cat's Skinning Language 1.4.1 support.
Remote Control 2.0 is available for Windows PC (VST/DX) costs 49 EUR / $68.60 USD. There's currently a limited time -15% offer of 41.65 EUR / $58.31 USD.
Visit Blue Cat Audio for more information.