Blue Cat Audio has released updates to its Blue Cat's Axiom and Destructor plugins, bringing major improvements to the distortion, amp simulation and guitar & bass effects processors.
The new version of Destructor, which also acts as an amp and pedals modeler inside Axiom, introduces a brand new way to explore presets and create new tones easily: with the "tone explorer", you can navigate and morph factory or user presets in two dimensions, on predefined or user-created maps: you can find the right tone without diving into the parameters of the plug-in.
In Axiom, it is now possible to create brand new amp models by just choosing the right spot on the screen.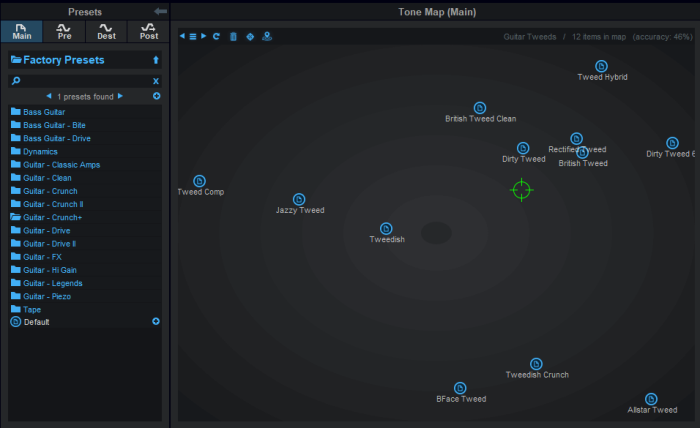 Both Axiom and Destructor also include a new presets browser with built-in search, to find your way through the thousands of presets available for the entire plug-in, or for each section.
Many new presets have been added in these new versions (not forgetting bass guitar players), and extra free guitar amp presets using impulse responses from Seacow Cabs are available as a separate free download.
Axiom version 1.3 also adds 4 new built-in effects (2 distortions pedals), and both updates include many other new features and improvements.
The update is free for existing customers, available from the same location as the original download (link received by email upon purchase). Registered Blue Cat Audio customers will receive extra coupons by email shortly.
Blue Cat's Axiom is on sale for 149 USD/EUR (regular 199 USD/EUR), while Destructor is 79 USD/EUR (regular 99 USD/EUR). Blue Cat's Axe Pack bundle is on sale for 249 USD/EUR.
The offer expires October 15th, 2019.
More information: Blue Cat Audio