Blue Cat Audio has released version 2.1 of Blue Cat's PatchWork, a "universal plugins patchbay" software that can now host 25 built-in audio effects alongside VST, VST3 or Audio Unit plugins.
This new version includes 25 new built-in audio effects that can be mixed together with third party VST, VST3 or Audio Unit plug-ins to create custom effects and instruments patches that can be shared across Digital Audio Workstations. PatchWork can now load itself as a built-in effect to reuse presets into more complex chains, independently from the chosen plug-in format.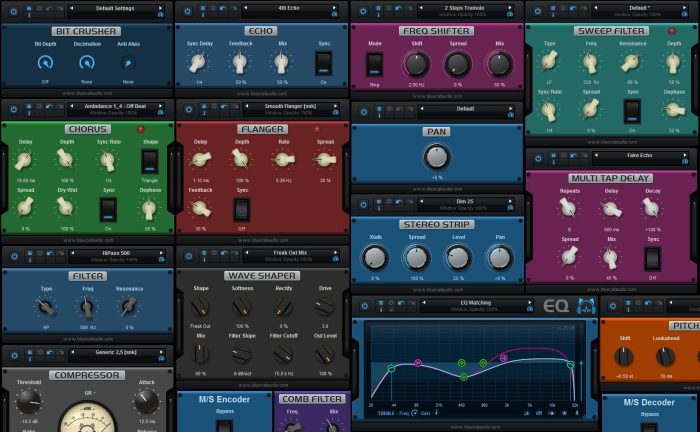 It is possible to chain effects in series or create up to 8 parallel chains that can be activated independently. This lets you create your favorite effects or instruments configurations within the plug-in, without the need for multiple busses. These configurations can be saved as presets and recalled instantly, or shared with multiple DAWs, using any plug-in format. Use the built-in audio effects to add color to your own plug-in chains.
The Graphical User Interface (GUI) of PatchWork 2.1 can now be zoomed from 70% to 200%, and a new option is available to keep loaded plugins always on top of other windows.
In addition to new features and fixes, Blue Cat Audio has also added 75 new effect presets and a new quick start video tutorial to help you get the best of this new version.
Changes in PatchWork v2.1
Added 25 new built-in effects: EQ, filters, pitch & frequency shifter, delays, modulation effects, compressor, gate, bit crusher, wave shaper and more.
75 New presets using built-in effects.
The GUI can now be zoomed from 70% to 200%.
New option to keep plug-ins windows always on top.
Default preset now also saves the state of locks (when using "save as user default").
Load PatchWork into itself as a built-in effect.
Fixed host keyboard shortcuts lost when a sub plug-in is opened (in several host applications).
Fixed wrong number of channels used when hosted plug-in input set to manual and output to auto.
Fixed sub-plug-ins automation overwritten when using touch mode in some hosts.
VST2: fixed a crash in Wavelab.
Mac: new installer.
Mac: fixed minor compatibility issues with Mac OS High Sierra.
Windows: fixed plug-in windows not showing on displays on the left or above the main display.
Blue Cat's PatchWork is available from Blue Cat Audio and distributor Plugin Boutique for 99 EUR. The update is free for existing PatchWork 2 owners.
More information: Blue Cat Audio / PatchWork