Bob Leggitt has released FreeST Mutiny, a virtual polysynth instrument, designed to create retro, analogue-type sounds.
The kind of sounds keyboardists used in the days before MIDI. The VSTi is not based on any particular synth model, but was created with an ethos of 1970s simplicity – everything on the front panel, no hidden parameters, what you see is what you get.

I wanted the synth to be musical and have a practical, useful sound set – presets which could go straight into recordings without much tweaking. I feel the presets are a big part of what this VSTi is about.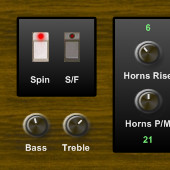 Bob also released Real Rotor, a rotary speaker effect.
The FreeST Real Rotor VST rotary speaker effect replicates the sound of a mic'd up, valve-type, bass-plus-horns rotary speaker cabinet, as typically used with an old Hammond organ. It's a development of my original Real Rotor effect, which was integrated into the FreeST VSTX3 virtual organ. Not only does this new version have improvements over the original, it's also the first time the rotary has been available in its own right, not as part of an instrument. So now the Real Rotor can be used with any VST organ, and indeed any other instruments you feel it would suit.
Bob Leggitt plug-ins are available as freeware for Windows (VST).
More information: Bob Leggitt