The Bob Moog Foundation has announced the launch of its annual raffle for a highly coveted vintage Minimoog Model D synthesizer. Proceeds from the raffle will benefit the Foundation's educational and historical preservation projects.
This year's iconic instrument has been signed by legendary keyboardist Jan Hammer, known for his groundbreaking music on the 1980s TV series Miami Vice, and whose work with the Mahavishnu Orchestra helped define the Minimoog as a virtuoso performance instrument in the early 1970s.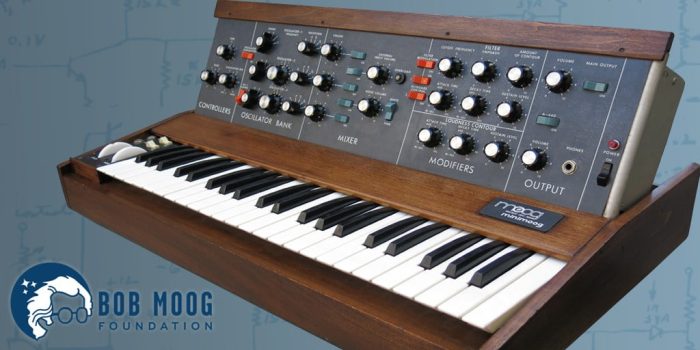 The Minimoog Model D being offered, serial number 4311, was built at Moog Music's Williamsville, NY factory in 1974, and is valued in excess of $5,000. The synthesizer is in excellent technical and physical condition and has been serviced by acclaimed restoration specialists Perfect Circuit Audio in Burbank, CA.

Jan Hammer may best be known for his definitive use of the Minimoog with Mahavishnu Orchestra in the early 1970s, and later for the music he created for 90 episodes of Miami Vice. He has also collaborated with some of the era's most influential jazz and rock musicians, including John McLaughlin, Jeff Beck, Al Di Meola, Mick Jagger, Carlos Santana, Stanley Clarke, Tommy Bolin, Neal Schon, Steve Lukather, and Elvin Jones, among many others. He has composed and produced 14 original motion picture soundtracks, and 20 episodes of the popular British television series Chancer. He has two Grammy awards and has received worldwide recognition for his musical and compositional talents, including winning Best Lead Synthesist seven times by Keyboard Magazine, and Best Sessions Synthesist twice.

"It's a saving grace having Jan Hammer playing the lead. He's done more to use a small keyboard synthesizer expressively than any other one musician. There are 10,000 keyboard players breaking their fingers trying to do what he did." – Bob Moog, Los Angeles Times, 1981

The Minimoog Model D is widely regarded as the most iconic synthesizer of all time, and was recognized as such in an international voters' poll by SonicState.com. When released in 1970, it represented a musical and technological revolution, with its combination of portability, affordability, accessible user interface, and innovative sounds and functions. Its robust construction has allowed the instrument to withstand the test of time. Vintage Minimoog Model Ds are coveted by synthesizer enthusiasts worldwide and regularly sell on eBay for $4,000-$7,000.
Tickets to enter the raffle are available at $20 USD each, or 6 for $100 USD. The raffle, which is open internationally, closes at 11:59pm on Monday, April 3rd, 2017 or when all 7,500 tickets are sold, whichever comes first. The Foundation's 2016 Minimoog raffle sold out in eight days.
More information: Bob Moog Foundation / 2017 Minimoog Model D Raffle