Bogus Noise has released an updated version of Compère, a A/B testing visualizer and mixdown & mastering assistant for Windows and Mac.
Version 1.0.5 fixes some issues with the window size and introduces resizing on VST2 OSX. A time scale has been added to wave displays, and crosshairs and crosshair info are no longer duplicated across instances.
You can now easily register Compère with a 'paste' button for the serial entry box. The update also includes some other minor fixes, tweaks and optimizations.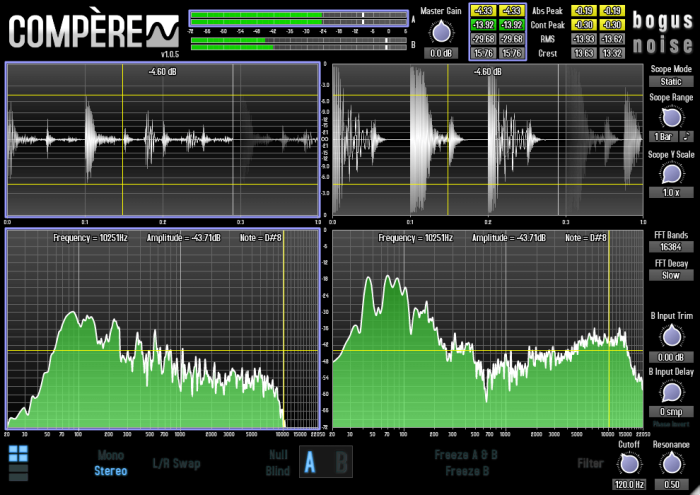 Geared towards fast switching and straightforward visualisation of source and reference input signals. Can't quite put your finger on what's missing from your mix down? Compère can help show you.

Simply place Compère on your master channel, send a reference ghost track to the side chain input, adjust the reference trim to match the source and enjoy immediate A/B comparison between the two.

Two oscilloscopes and two spectral displays are at the heart of Compère. The oscilloscopes can be synchronised the host tempo, ranging from zoomed out to 16 bars for a wide tracking overview, right down to a single beat for detailed work. Two spectral displays show you what the frequencies are doing, and with adjustable decay rate and number of bands you can tune it to your own preferences.
Compère features
Single A/B button to instantly switch between source and reference channels.
Twin oscilloscope and spectral displays for side by side comparison.
Mouseover crosshairs on oscilloscope and spectral displays, with information duplicated on both panes.
Single view mode to use Compère as a track visualiser, all other features remain available.
Fully resizable interface.
Oscilloscopes free running or syncable to the host BPM.
Freeze displays for both channels or just the reference.
Accurate Peak/RMS/Crest meters.
12dB low-pass filter for focussing on the low end.
Quick crossfades to prevent unwanted pops and clicks.
Mono/Stereo mode and left/right channel swapping to check your stereo image.
Blind testing mode with adjustable silence length.
Optimised for low CPU usage.
Designed to be clean, inobtrusive and quick to use.
Compère is available for Windows and Mac (VST/AU), priced at £42.99 until March 19th, 2018, 23:59 GMT (regular price £49.99 GBP).
More information: Bogus Noise